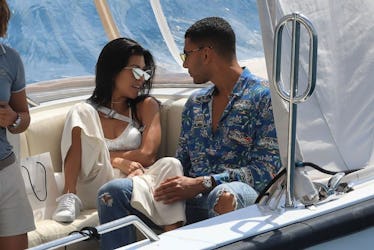 Kourtney Kardashian Celebrates America With Hot Boyfriend And Epic Sideboob
Robino Salvatore/GC Images
Kourtney Kardashian is celebrating the Fourth of July the best way she knows how... with her 23-year-old model boyfriend, zero cellulite, lots and lots of side boob, and being in a different country.
The mother of three went on vacation with boy-toy Younes Bendjima to Saint-Tropez, where they were photographed frolicking in the water and looking like half-human, half-angels.
The following pictures were taken on the French Riviera on July 3 and they are toasty.
Here she is being fierce AF.
And here they are jumping off a paddle boat like, "WEE - WE RICH!"
And this is Younes being like, "I can fly!" and Kourtney is all, "Prove it."
Here they are in matching outfits. SO CUTE.
You guys get the literal picture.
Kourtney rocked the same bathing suit Chrissy Teigen was spotted in earlier this month, and we happen to know you can buy it for a chill $575 dollars.
'Tis the season for independence, mini bikinis, and deep sideboob, we guess.
No word yet on where baby daddy Scott Disick is celebrating this Independence Day, but if history has taught us anything, it's that photos of Disick and young, young women will probably be circulating soon. The last time Kardashian and Bendjima went on a water date around the Cannes Festival, it sent him into a downward spiral.
In recent news, Disick was recently spotted holding hands with a very young 19-year-old Bella Thorne while leaving a party in West Hollywood.
Still, all is fair in love and Hollywood.
Kourt's sister Kim Kardashian hung at home, cooking up an awesome Jamaican BBQ for the holiday, and we can only assume Khloé is working out somewhere.
It's not that the Kardashian family is the First Family of the United States or anything. It's just they're, ya know, absolute, undeniable royalty and whatever they do we're obsessed with. You guys understand the difference.