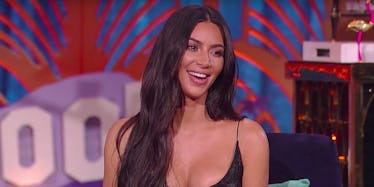 Kim K's Fourth Of July BBQ Was Filled With Comfort Food And Awk Family Photos
YouTube
Kim Kardashian's Fourth of July bash will most likely put your BBQ to shame (no offense).
The get-together already gets major points for being a brunch, not a BBQ. Obviously, that's the trendiest way to celebrate America's independence.
Unlike your outdoor shindig, Kim K's soirée featured white table cloths, chic floral centerpieces, and mac and cheese that looks like it descended from the heavens. When I caught a glimpse of the menu, I immediately made my way into the kitchen to find something even slightly as satisfying.
Comfort food took a whole new level with these photos and videos, which were featured on the Instagram account kimksnapchats.
Greens, meat, potatoes, corn bread, beans — our mouths are drooling watching this footage.
I'm not entirely sure what these babies are for, but they're sliced so nicely that I'll take 'em next to my mac and cheese.
After you're done eyeing that plate of food, catch a glimpse of Mr. Smiles, Kanye West.
He never smiles! This might very well be cause for some fireworks.
But want to know who's not smiling? North.
Poor Nori has that disgusted looking on her face like, "Uh, Mom, we have to take another picture?!"
I get it Nori — my mother fancies herself my family's version Terry Richardson. We never get out of get-togethers or vacations without thousands of photos.
I can see it now: "Mom, I didn't finish my mac and cheese!" "Mom, I want to go play with my new dog!" "Mom, we already took this photo 100 times!"
Perhaps Granny Momager Kris Jenner can help lighten the mood. I mean, after all, she was all smiles and shaking her groove thing.
2 Chainz and his family joined in the Kardashian festivities (and probably had the mac and cheese).
This party comes a day after rumors of Kanye West's financial dispute with JAY-Z's company, Tidal, so it's nice the family is keeping things festive and fun.
Feel free to send a doggy bag our way, guys!