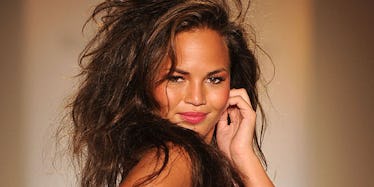 Chrissy Teigen's New Swimsuit Is Probably Worth More Than Your Entire Life's Savings
Frazer Harrison/Getty Images for IMG
Look, I get if you're confused. I also thought Chrissy Teigen was one of us. Lest we forget, despite her totally relatable posts, hilarious commentary, and love of tacos, Chrissy is, in fact, a rich AF celebrity.
It's easy to forget that beneath all of that charisma is actually millions and millions of dollars, a multi-award-winning husband, and an insane modeling career (thanks to her even more insane body).
It's not that looks matter, you guys, but if they did... I'm just saying, Chrissy Teigen would matter a lot. 
We were all reminded of this today when Teigen posted a very casual pic of herself on Instagram just being a regular mom, by a regular pool, in a regular $575 swimsuit.
Record scratch. Roll the tape back.
A $575 swimsuit?! What is it made out of?! The tears of all the women cut from America's Next Top Model?
The suit itself is a nude color and detailed with, IDK, silver unicorn teeth (???) studded along the sides. It is designed by Norma Kamali and comes in a variety of colors like black and blue, meaning everybody can find one that looks good on their skin tone.
Here it is in blue, for example, on yet another very regular human we can all relate to.
Doesn't she look so chill?
E! News recommends this pro tip: "Slip on a pair of denim shorts before and/or after for an effortlessly cool look."
Oh, THAT'S the word: effortless. Just about as effortless as reaching into your savings account, draining it entirely, and then setting it on fire.
Still, we can't be mad at Chrissy for shopping at slightly nicer stores than us. It's like sometimes on payday, I go to Starbucks instead of Dunkin', but that doesn't mean I've lost touch on reality... know what I mean?
Chrissy, you look great. Luna, you look great. America, you look great.