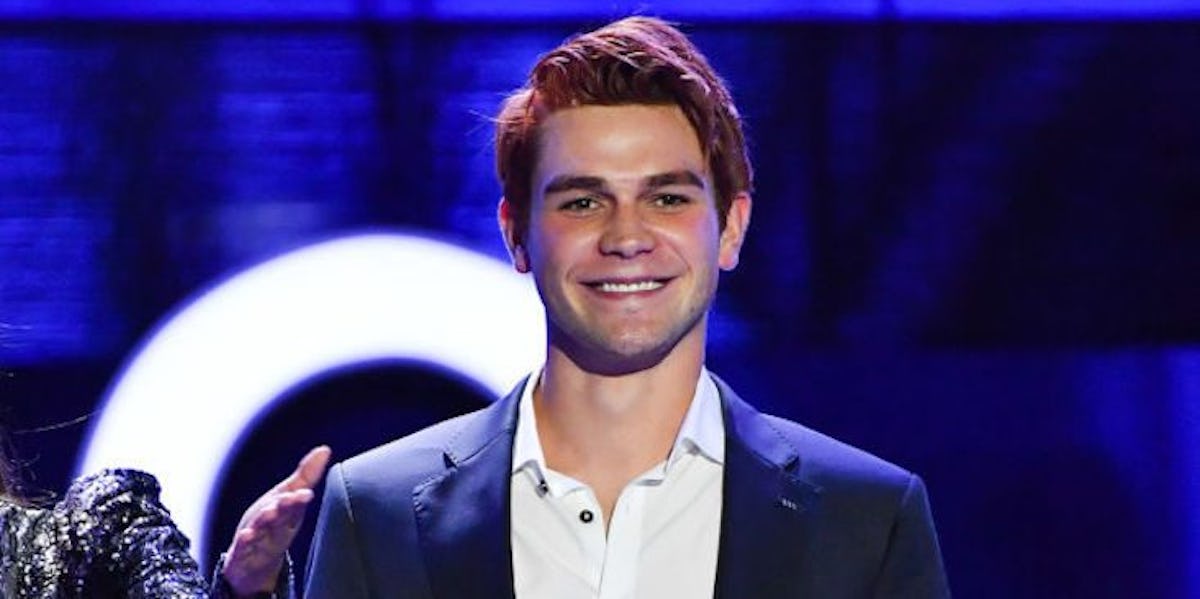 'Riverdale' Star KJ Apa Was Reportedly In A Car Accident, Here's What We Know
George Pimentel/Getty Images
Riverdale star KJ Apa was reportedly in a car accident early on Thursday, Sept. 21. According to The Hollywood Reporter, Apa was driving himself home from set after completing a day of production for Riverdale. The actor who plays Archie allegedly fell asleep while at the wheel – it was after midnight when the accident occurred. Apa went to the hospital, but was luckily released with no serious injuries. Now fans are wondering, is KJ Apa OK after his car accident?
Elite Daily reached out to Apa's team for a comment, but did not hear back by the time of publication.
The 20-year-old actor was making the 45-minute drive from the Riverdale set to his hotel room in Vancouver when the accident happened. Apa was driving after midnight, following a 16-hour workday. Reportedly, he was brought to a local hospital and later discharged, after observation, without serious injuries. His car was deemed inoperable from the damage that resulted from the passenger side hitting a light pole. Scarier still, his Riverdale co-star, Cole Sprouse, who plays Jughead was supposed to be in the car with Apa, but had apparently changed plans at the last minute.
Apa was clearly exhausted, which has sparked concerns for the set of Riverdale. According to WBTV's policy: Actors are responsible for their own transportation to and from shooting, especially when outside the United States. According to The Hollywood Reporter, Warner Bros. executives plan to meet with the actor's reps to discuss the issue. The studio has not confirmed this, but it seems like the most logical thing to do. We need our Riverdale people safe and sound.
Apa plays red-headed Archie Andrews on the show and is equally loved by fans and his cast mates. Specifically, Apa's relationship with Cole Sprouse. Archie and Jughead aren't just friends on-screen, Apa and Sprouse's social media accounts are flooded with photos of the two.
While the cast seems like they have a great time together, Riverdale isn't all pastel smiles like the Archie comics would suggest. The show resurrects for its second season this October, and the CW has already teased fans with a Riverdale Season 2 trailer that looks INTENSE. Based on the trailer, this season is going to get freaky when it premieres on Oct. 11 — just in time for Halloween.
The opening shot features all your favorite characters: Betty, Jughead, Archie, and Veronica. The four are sitting at their favorite diner enjoying some strawberry milkshakes — delish! Fun fact: Fans of the old comics will recognize that the teeny boppers are dressed in the exact same clothes their 2D-counterparts sport in the comic books.
However, the trailer takes a surprising turn in the next shot when Archie is on the ground with a gun pointed at his head by someone in a ski mask. That escalated quickly. There really is a variety of disturbing shots. Fred Andrews is being rolled out on a hospital stretcher — presumably because he got shot by that same ski-masked person in the Season 1 finale. Then Jughead's voice says, "What if the robbery wasn't the motive? People hold grudges. Think of where we live." Finally, Cheryl Blossom does the most terrifying and glamorous hair flip of all time while casually standing in the hospital.
There's a slew of other interesting things: A steamy shower with Archie and Veronica, Archie carrying a gun, Jughead and Betty kissing in the rain, and so much more. Honestly, Season 2 has a lot to explain based on this trailer.
Riverdale Season 2 looks so, so exciting and fans are pumped. More importantly, though, I'm glad KJ Apa is OK after his car accident. Sending thoughts and love your way, KJ!
Check out the entire Gen Why series and other videos on Facebook and the Bustle app across Apple TV, Roku, and Amazon Fire TV.