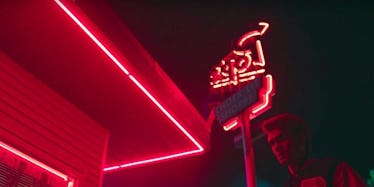 New 'Riverdale' Teaser Shows Archie Holding A Gun And Fans Are Losing It
The CW
Just when you thought things couldn't get any darker, a brand new Riverdale Season 2 trailer is here and it looks seriously intense. This is the second trailer we've seen from the upcoming season – the first of which was debuted at San Diego Comic-Con back in July.
While the teaser this time around is much shorter, we still get so many clues as to what's going to go down this season. First of all, it's titled "Desperate Times." It starts off with the sheriff talking about the "tragic news" that needs to be shared. Then, we see Archie gearing up for the possible return of whoever it was that shot his father. He says, "But what if he comes back?" It sounds like Jughead who replies, "Desperate times."
We also get a look at a car speeding over some snow on the road, Veronica jumping in the shower with Archie (while still wearing her pearls?) and a masked man in a black leather jacket holding a gun. Finally, we see Archie again, in the darkness outside Pop's Chock Lit Shoppe. The voiceover, who sounds like Fred, says, "You can't let this fear run your life, Archie," as Archie pulls a gun out of his letterman jacket and cocks it.
Fans, obviously, lost their minds.
But really, I can't blame some of the fans who are nervous about what's about to happen in Season 2. What is Archie doing with that frickin' gun? Does he know how to use it?
Fans will remember that Season 1 left on a huge cliffhanger with Archie's dad getting shot in that same restaurant, so maybe it's Archie's mission now to find out who did it and get some revenge. Only time will tell if that's the case, and if it ends up going well.
Riverdale returns to The CW on Oct. 11 at 8 p.m.