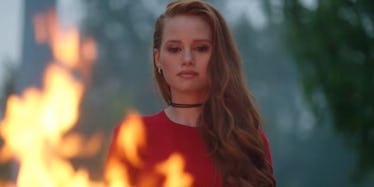 'Riverdale' Season 2 Will Include "A Lot Of Social Justice Issues" & We Can't Wait
CW
Can it be October already? Riverdale Season 2's premiere date is inching closer every day, and we have been chomping at the bit for new episodes for what seems like forever. But at least we have juicy tidbits here and there to keep us satisfied before we're reunited with Archie and the gang. One character we can't wait to watch in action again is the deliciously devilish, wickedly witty, and sass-tastic Cheryl Blossom. The actress behind the HBIC we love to hate (or hate to love?), Madelaine Petsch, spoke with Forbes this month about what to expect, and we're eating up every one of her words because this season looks like it's gonna be good.
Petsch revealed Riverdale will focus on some of the themes we've seen in the past, though it appears the show will dive even deeper. "It's important that we go back to the things we discussed in the last season," she told the magazine. "And that includes a lot of social justice issues." She specifically pointed to episode 5, saying that "a lot of things happen in that episode that is very normal for people in high school."
We're guessing the series will go beyond "normal" high school occurrences we've come to expect from TV, like zits and SATs. This is Riverdale we're talking about. The end of Season 1 offered up a serious and emotional side of tortured, yet tough, Queen Bee Cheryl when she (spoilers ahead) attempted suicide. Apparently, we can expect the redhead to lose a lot of her softer side, or at least she'll pretend to. She told TooFab at Comic-Con, "She's taking control, getting meaner and colder to people around her because it's the only way she can feel protected. To the outside world, she will be a lot meaner, but in her head, she's just doing what she can to cope."
Cheryl will also have a love interest in Season 2, but she told Forbes that it's "nothing that anybody expects."
Cheryl isn't the only Riverdale resident who will experience changes. Lili Reinhart opened up about her character's future, saying, "Season 2 focuses a lot on Dark Betty." Cole Sprouse also told TVLine that the second season "is going to be getting darker and stranger."
Can't. Wait. We're so ready for everything -- dark or not -- that Riverdale is going to tackle in the upcoming season.