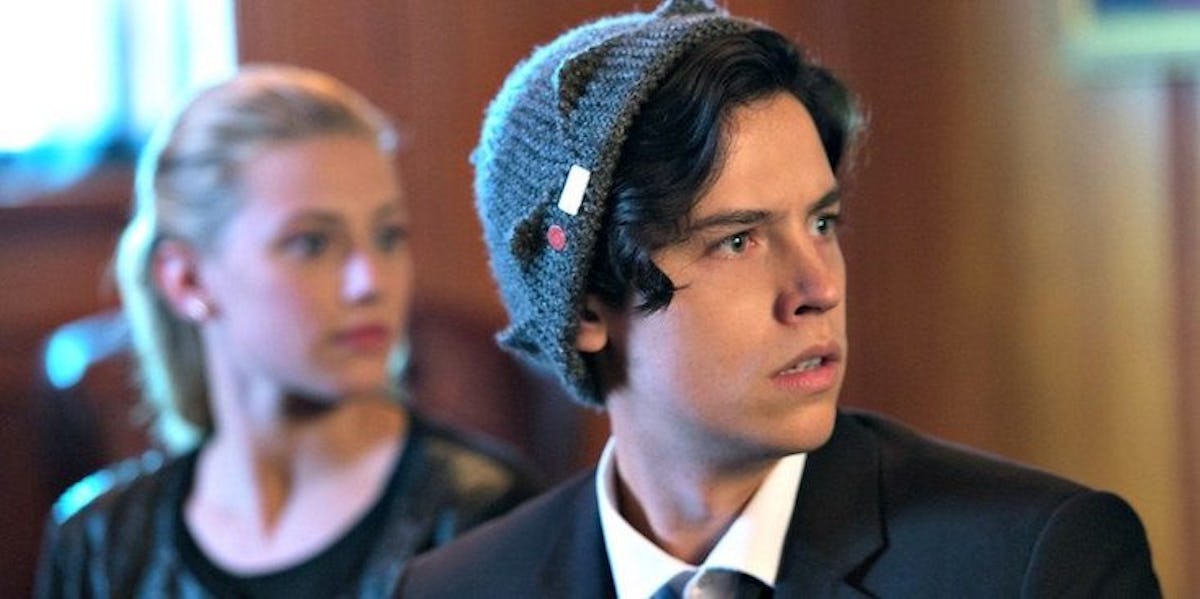 Tiny Detail In The 'Riverdale' Trailer May Prove This Couple Gets Married In Season 2
CW
OK, Riverdale fans, if you're as hyped up as I am for the show's Season 2 return this October, then you've probably been watching the new Riverdale trailer on repeat. Of course, there are tons of clips in the teaser to get you excited for new episodes, but one shot in particular is shocking AF and has us all wondering if Veronica and Archie get married in Season 2. That's right, though it's only a brief flash, it looks as if our favorite raven-haired beauty might be heading down the aisle sometime this fall, and who else would it be with if it's not her crimson-haired lover Archie?
Like I said earlier, there is a ton to catch your eye in the new trailer. The gang is all back together at Pop's, Archie is trembling with a gun to his head, Fred Andrews is being carried on a hospital stretcher, Veronica and Archie have a very steamy shower scene, and Veronica's dad Hiram Lodge makes an appearance. It's a lot to take in. All of that fails in comparison, though, to one of the trailer's final shots of Veronica walking down an aisle in a white, lace dress, holding a bouquet of flowers. Call me old-fashioned, but that seems like a classic wedding spoiler to me.
Of course it's hard to take our eyes off the gorgeous Veronica (even if we do only see her for a split second), but the real kicker here is when Archie's mom not-so-subtly winks toward the camera in the final shot of the teaser. Whether or not her wink is meant to be a sly nod hinting at a Varchie wedding remains to be seen, but, since this is Riverdale we're talking about, anything can happen.
With that in mind, let's not rule out the idea that this could very likely be a dream sequence, or that Veronica isn't get married at all, but rather acting as a bridesmaid in someone else's wedding. Yes, the white dress she's wearing makes it seem like she'll be the one saying "I do," but we never see the full dress, so who knows what the deal is. Bottom line: We're in for one hell of a season and nothing is guaranteed.
Speaking of one hell of a season, it's also been revealed as of late that Riverdale is about to get darker than we could have ever imagined. Season 1 had it's sinister moments for sure; according to Cole Sprouse, though, Season 2 will follow suit and get even darker. In an interview with TVLine, the actor who plays Jughead says,
I think the whole show is going to be getting darker and stranger. We're going to be leaning into a lot of those qualities that a lot of people ended up loving in the first couple of episodes — this heavy cinematography, this overbearing coloration, this really dark content that's kind of over-the-top and campy, but it's taken very seriously.
Based on the Season 1 finale alone, I can't say I'm surprised; What is shocking, however, is that Betty will be at the center of this season's drama. In an interview about the upcoming season, Reinhart tells EW,
The entire mystery of season 2 is completely under wraps and we haven't been able to talk about it at all. What we can say is that Betty's speech in the finale at the jubilee about how the town needs to do better has repercussions.
The Riverdale showrunner, Roberto Aguirre-Sacasa echoed Lili's comments in his own interview with EW where he says,
I would say by episode 4 and 5, Betty is absolutely in the heart of darkness. We're putting her through the fires like never before. I can't say too much because there's a couple of big twists, but Betty is absolutely at the heart of the darkest story we're telling this season.
All in all it already seems like the drama, horror, and surprises of Season 2 will trump the darkness and mystery of Season 1 right off the bat. We can also look forward to seeing tons of new faces in Riverdale this year, Polly giving birth to her twins, and a possible civil war between the north and south sides. Roberto Aguirre-Sacasa has said "[I]t's going to be a really different Archie for season two," so obviously we're in for some major changes and I for one can't wait.
Riverdale Season 2 premieres at 8 p.m. ET, October 11 on The CW.
Check out the entire Gen Why series and other videos on Facebook and the Bustle app across Apple TV, Roku, and Amazon Fire TV.