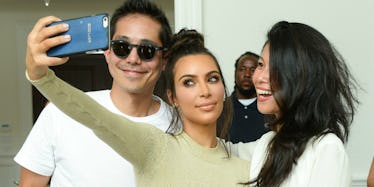 Kim Kardashian Goes On A Twitter Spree Showing Her Love To Some Lucky Fans
REX/Shutterstock
It's been three months since Kim Kardashian took her social media love away.
But now, the 36-year-old reality TV star has finally broken her social media silence after posting a picture of her, Kanye, North and Saint to Instagram and Twitter.
And the angels did sing.
There's been plenty of talk surrounding Kardashian's return to the internet, especially after a video compilation appeared on her website featuring family home videos, and the fact "West" was missing for a short while from her social media handles.
Kardashian took an unexpected break from social media and the public eye after armed robbers held her at gunpoint in a Paris hotel.
After that harrowing incident, where jewelry valued between $6 million and $11 million was stolen, Kardashian's online content was posted by friends and family.
Another factor adding to her silence was, of course, her husband's mental breakdown.
But now, the star is reaching out on Twitter to thank a few fans for their constant support.
She missed her fans just as much as we missed consuming all things Kardashian.
It is safe to say I know more about the Kardashian family than I do my own.
If you did not openly weep at Kardashian's social media return, are you even human?
I too would enjoy a pair of free Yeezys.
It's OK, my friends. Kim Kardashian is back on social media, and it's officially 2017 -- things are going to get easier.
Her hiatus began in October, just before our world started to unravel at an alarming rate. A Trump presidency, beloved stars shockingly passing away, injustice and violent wars...
Everything will start making sense again. We just have to keep our chins up...
Or down rather -- while we stare intently at our phones, waiting for Kim Kardashian's newest update.