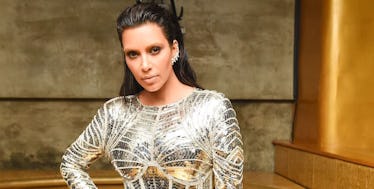 Kim Kardashian Wasn't Trying To 'Shade' Taylor Swift Over The 'Famous' Call
REX/Shutterstock
Remember that whole Kim Kardashian and Taylor Swift thing?
Oh, that was just a big misunderstanding.  More specifically, if your knowledge of the situation is mostly in regard to Kim K throwing shade at T-Swift by releasing the video of Kanye warning the singer about the contents of his song "Famous," then you've got it all wrong.
In a recent interview for the cover of Wonderland magazine, Kim commented on the shade-throwing subject.
She said,
I never publicly talk bad about people. I still don't feel like I have. I'm being honest. I'm a fan. I like her music. There was no shade.
Well, thank goodness! We now know Kim doesn't publicly "talk bad" about people!
Anywho, here's the video of her publicly "talking bad" about Taylor Swift and accusing the singer of being an attention-seeker who plays the victim.
Can't wait for tonight's episode #KUWTK @KimKardashian! I knew @taylorswift13 was lying on my damn brother!! pic.twitter.com/FkER8QqLH0 — xavier m. (@zayhill) July 17, 2016
On the night this episode of "Keeping Up with the Kardashian" aired, Kim released the much-talked-about conversation between Taylor and Kanye on Snapchat. And if Kardashian didn't mean to throw shade at Taylor, she sure inspired just about everybody else to do it.
I mean, it's near impossible to count how many ways Swift got shaded that night, but screw it, let's try.
Twitter threw a party, Khloé crowned Kim a savage and warned Taylor to not try Kanye, Calvin Harris engaged in some sly trolling via Snapchat and then the memes came. And the memes did what they do.
You know what else is also worthy of note? In her interview for the cover story on Wonderland, Kim also says she wants to be a forensic investigator.
She told Wonderland,
I was really nosy when my dad was working on the OJ trial, and I would look through all his stuff, and I just wish I was in that field.
Honestly, good for Kim. I hope she makes that dream a reality one day. Until then, her selfies are her full-time job.
Anyway, I'm sure Taylor doesn't mind anymore now that she knows Kim Kardashian said she didn't mean to throw any shade! Right? Right.
Citations: E! Online, Mail Online