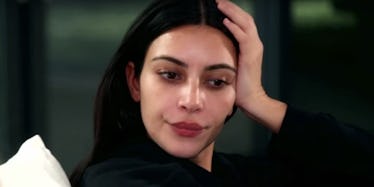 Kim Kardashian Recounts Paris Robbery In Tearful Video: 'There's No Way Out'
YouTube
Kim Kardashian became traumatized after she was held at gunpoint inside her Paris hotel room on October 3, 2016.
After the armed robbery, her followers were left with various news stories recounting the tragic event -- but it looks like they'll finally get to hear Kim's side of the story firsthand.
The scarred mother-of-two will talk about her horrifying experience during the next episode of "Keeping Up With the Kardashians," so get your tissues ready.
After Sunday night's premiere of "KUWTK," an extended preview for the upcoming episode was aired, confirming the fact that Kim will go into detail about her robbery next weekend, E! Online reports.
In the teaser, Kim tearfully recounts the terrifying moments when she came face-to-face with her kidnappers.
Kim talks to the cameras, saying,
They ask for money. I said 'I don't have any money.' They dragged me out to the hallway, on top of the stairs. That's when I saw the gun like, clear as day. I was kind of looking at the gun, looking down back at the stairs...
During the clip, Kim tells how she looked for an escape while talking to her sisters Khloe and Kourtney and starts crying mid-conversation.
She talks through her tears, saying,
I have a split second in my mind to make this quick decision.
Like, am I gonna run down the stairs and either be shot in the back -- it makes me so upset to think about it -- but like either they're going to shoot me in the back, or if I make it and they don't, if the elevator does not open in time, or the stairs are locked, then like, I'm fucked. There's no way out.
In case you don't already have the chills, check out the eerie crime scene pictures that've been released after the robbery.
Since the harrowing night in Paris, 17 suspects have been connected to the robbery, and one of them even spoke out about how he targeted the fashionista.
For a personal scoop on the dramatic situation, be sure to tune into next weekend's episode of "Keeping Up With the Kardashians."
Citations: Kim Kardashian Tearfully Recounts Paris Robbery in New 'KUWTK' Preview: 'There's No Way Out' (ET)