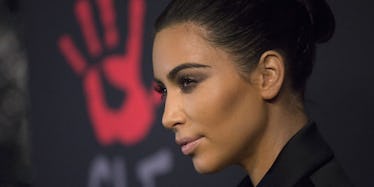 Kim K Details Robbery In Chilling Police Report: 'I Was In A Bathrobe, Naked'
REX/Shutterstock
Kim Kardashian has revealed more details about her Paris robbery in a new police report.
The reality star has given an in-depth account of what happened that night at the No Address Hotel in October.
In the report, published by a French news website, part of the police interview transcript reveals Kim's night of terror began when she heard noises coming from her hotel room door.
It loosely translates as,
I heard a noise at the door, like footsteps, and I shouted to ask who was there, no one answered.
Kim called her bodyguard just before 3 AM.
She then spotted two hooded men – one wearing a ski mask and a cap with "Police" written on it.
One snatched her BlackBerry.
Kim was then asked for her ring, which is worth around $4million. She said she did not know where it was and one robber produced a weapon and threatened her life.
The mom pointed to her bedside table where the ring was sitting. They asked her for jewelry and money.
The police transcript states Kim was naked except for a bathrobe and the robbers "pushed" her onto a bed.
The loose translation reads as,
They grabbed me and took me to the lobby. I was in a bathrobe, naked underneath. We then went back to the room and they pushed me onto the bed. And then, they tied me with plastic cords and Scotch tape on my hands, then they taped my mouth and legs. They took me to my bathroom.
Kim was made to stay in the bathtub bound while the robbers ransacked her apartment.
She said a phone kept ringing before she suspects one of the men told his accomplices they had to leave.
Kim managed to free herself from the restraints after the robbers vanished into the night.
The transcript has not been officially published by the police.
A total of 16 people have been arrested in connection with the robbery.
Citations: Europe 1