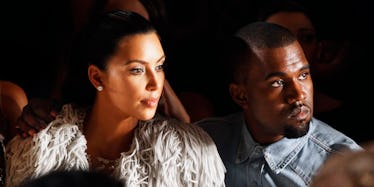 Kim K's New Wedding Band Is Much Simpler Than Her Stolen Engagement Ring
REUTERS
You're drunk off your ass if you think Kim Kardashian West is traveling overseas with massive diamond on her hand ever again.
Kimmy jetted off to Dubai with Scott Disick and four members of her security detail on Wednesday, all the while flashing a decidedly understated diamond band on her ring finger.
The new ring is nowhere near as massive as the Adidas-branded rock Kanye West gifted his wife over the summer only to have stolen during the Paris heist in October.
Wearing a ring at all to tell the world she's married may be totally unnecessary at this point, but any excuse to wear diamonds (even if it's just a leeeeeetle bit of diamonds) is one Kim is going to take.
In the event this smaller band is stolen at any point during Kim's trip to Dubai — where her longtime makeup artist, Mario Dedivanovic, is slated to teach a Master Class to Kim fans and beauty fanatics — chances she'll see it again are slim.
Regarding the existing investigation surrounding Kim's Paris robbery, a judicial police source told Us Weekly diamonds are usually shipped to Antwerp's diamond district in Belgium.
In the event any of Kim's stolen jewelry is recovered from the robbery or general progress is made on the investigation, it could be an eternity until a conviction is made.
The source added,
You could call it strange, but actually, it can take many months, even years to solve a heist mystery. There's a lot that goes on beyond the initial evidence collecting… It can take a long time.
Though most of us don't have diamonds to lose, the stress of traveling abroad with our valuables following an armed robbery is enough to make any of us overnight ourselves in a cardboard box for fear of being spotted with any possessions at all.
Here's hoping Kim enjoys a safe couple of days in Dubai.
Citations: FASHION Kim Kardashian Wears Super Minimal Wedding Ring While Flying to Dubai (PEOPLE)