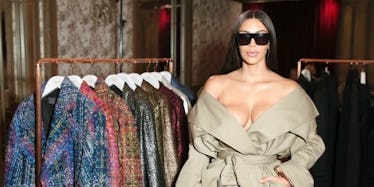 Kim K Confirms Her First Public Appearance In New Snapchat Video
REX/Shutterstock
Kim Kardashian is back, baby!
Following a slew of recent arrests in connection with the Kim K Paris robbery, the 36-year-old took to Snapchat and, with the help of her makeup artist, Mario Dedivanovic, announced she will make her first public appearance since she was robbed at gunpoint last October.
So, where is Kim Kardashian heading?
Well, according to her recent Snapchat videos, Kim K is off to Dubai to put on a makeup Masterclass this week.
For the most part, Kardashian has kept herself off the radar since her harrowing experience in Paris last year.
But she seemed remarkably happy in her recent Snapchat video to announce her upcoming public appearance in Dubai.
As you can hear in the video above, a cheery Kim Kardashian said,
You better suck it in. Those people coming to the Masterclass in Dubai do not want to see that.
Ayyy!!! Now that's the Kim Kardashian we all know and love!
According to Dailymail.com, those attending Kim Kardashian's upcoming six-hour makeup Masterclass in Dubai will have to shell out $1,600 for the pleasure of seeing Kim K in public for the first time since the Paris robbery.
The $1,600 price tag gets you a VIP ticket, which will give guests the opportunity to meet Kim Kardashian and her makeup artist, as well as take home a unique goodie bag.
Don't get your credit cards out yet, though, because the VIP tix are already sold out. However, general admission tickets are still reportedly available for $500 each.
The makeup Masterclass in Dubai was initially scheduled for October 14, but it was canceled after Kim Kardashian was robbed at gunpoint in her Paris hotel room on October 3.
According to reports, French authorities have arrested a total of 17 people in connection with Kim Kardashian's robbery, including her 27-year-old chauffeur.
Apparently, a 72-year-old man who goes by "Pierre B" was instrumental in organizing the robbery.
Tell 'em, Kim!
In any event, it's so awesome to see Kim Kardashian prepare to get back into the spotlight where she belongs.
Citations: The show must go on! Kim Kardashian and makeup artist Mario Dedivanovic prepare for their Dubai trip as French police arrest 17 in connection to jewellery heist (Daily Mail)