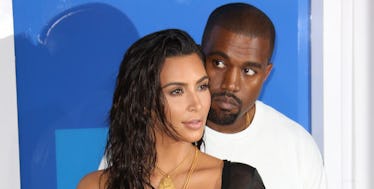 Kanye Looks So Out Of It In Kim Kardashian's Latest Pic Of Him With Saint
REX/Shutterstock
Now that Kim Kardashian has returned to social media, she's blowing up my phone with notifications of her posts multiple times a day.
Like, chill for a sec, Kim. Let's ease back into this slowly so my phone can properly prepare.
It started with that cute family video she posted on Twitter.
Last night, the 36-year-old reality star posted another family photo for fans on Instagram.
She added a pic of Kanye West sitting on the couch as Saint West tries to stand between his legs.
Kim captioned the photo,
My boys
AWWWWW.
At first glance, it's adorable. However, when you take a second look, you'll notice Kanye West is hardcore zoning out.
LOOK AT HIS FACE! He probably had no idea he was even holding a baby in this moment.
YOU OK, BRO?
This isn't the first time Kim added a pic of Kanye looking dead inside.
A couple days after Christmas, the "Famous" rapper added a photo of his family and everyone looked miserable.
Saint is literally thinking, "Fuck this shit." I can see it in his eyes.
I understand it's a rarity to see Kanye West smile for a photo, but why does he suddenly look so... out of it?
The star has been through a lot, so I shouldn't be too critical. Also, I look like a half-eaten gremlin in most of my Insta pics, so who am I to judge?
It has only been three months since Kim Kardashian was held up at gunpoint, so the family is probably still recovering from the trauma.
Kanye West was also hospitalized at UCLA Medical Center "due to extreme exhaustion" in November.
The star returned home shortly after and was reunited with his wife and kids in Los Angeles.
However, it's definitely still been a rocky winter for the couple. Fortunately, Kim and Kanye are each seeing separate therapists to deal with their own experiences.
Kim also returned to social media and Kanye was rumored to be working on new music, so it looks like their both getting back on track.
Hang in there, you guys.
Citations: Kim Kardashian Photo Of Kanye West (Us Magazine)