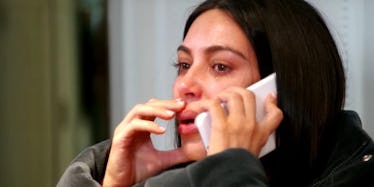 This Video Of Kim K Learning About Kanye West's Hospitalization Is Heartbreaking
E!
Fall 2016 was a dismal time for Kanye West and Kim Kardashian, and the family is reliving the misery on recent episodes of "Keeping Up With the Kardashians."
During previously aired episodes, Kim tearfully recalled the terrifying moment when she faced her robbers during her stay at a hotel in Paris.
She thought she was going to be raped and killed inside the hotel room.
Quite obviously, emotions have been running high on the reality show, but that's definitely not where the drama stops.
In a new preview of "KUWTK" released by ET Online, Kim K sheds even more tears when she finds out Kanye West has been hospitalized.
During the clip, the mother-of-two receives a phone call from one of Kanye's friends shortly after she arrives in New York City before her appearance at the Angel Ball.
After answering the phone, she immediately starts crying and begs the rapper's friend for more information.
"What's wrong? Don't scare me, please. What's going on?"
As Kim fights her tears and talks to Kanye's friend about his crippling breakdown, her mother and sister watch as the devastating conversation unravels.
Kim continues in the extended "KUWTK" clip, saying,
They're not telling me anything, and I am so scared and I don't know what to do. [...] He's like crying on the phone to me, and he wouldn't say what's wrong. And I'm like, 'Tell me what's wrong.' I just like, don't know what to do.
Kanye West was hospitalized on November 21 after having a "psychotic breakdown." The rapper was admitted to UCLA Medical Center for exhaustion after he canceled the remainder of his tour dates.
Keep in mind, this all happened one month after she was robbed at gunpoint.
Based off the fact that Kim Kardashian canceled her appearance at the Angel Ball in New York City in November, we can assume she flew to LA shortly after receiving the detrimental phone call.
We'll have to wait for the next episode to find out what really happened behind the scenes, though.
Citations: Kim Kardashian Breaks Down in Tears When Kanye West's Friend Calls About His Hospitalization on 'KUWTK' (ET Online), 'I don't know what to do': Kim Kardashian bursts into tears when she receives call about Kanye West's breakdown in new KUWTK clip Read more: http://www.dailymail.co.uk/tvshowbiz/article-4410260/Kim-bursts-tears-called-Kanye-s-breakdown.html#ixzz4eDyDYJNV Follow us: @MailOnline on Twitter | DailyMail on Facebook (Daily Mail)