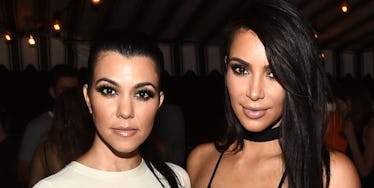 Kim Kardashian Reveals Why She Prayed For Kourtney While Being Robbed In Paris
REX/Shutterstock
A highly-anticipated and emotion-packed episode of "Keeping Up With the Kardashians" aired last night, where Kim Kardashian recounted her scarring Paris robbery in detail.
Since a group of armed robbers broke into Kim's hotel room on October 3 and stole millions of dollars worth of jewelry, fans have been left with little information about the crime scene.
Slowly but surely, details emerged about the break-in and suspects have been named, but Kim had yet to share personal details about the terrifying autumn night.
Before Sunday's episode of "KUWTK" aired, fans were given teasers that showed some details about the heavy conversation Kim had with her sisters Khloé and Kourtney about being held hostage during the robbery.
Kim recalled how the robbers trespassed into her hotel room and spoke about what they did when they came in.
After being typed up with duct tape, she thought she was going to be raped and shot dead inside her hotel room.
During last night's episode, Kim also revealed a harrowing wish she had for her sister Kourtney during the robbery.
Kim claimed she thought about Kourtney, who was staying with her in Paris but was out partying, during the robbery and wished she would live a normal life after finding her dead body.
She said,
I just prayed that Kourtney's going to have a normal life after she sees my dead body on the bed.
Nobody deserves to feel like that. Kim, we're so happy you made it out OK.
After viewing the devastating clip, fans felt so much sympathy for the reality star.
"No matter how famous she is, she does not deserve to go through that."
It was "tragic to hear."
Fans are upset for Kim after hearing about the robbery firsthand.
Stay strong, Kim. We're pulling for you.