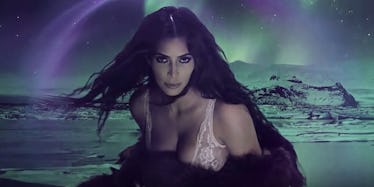 Kim Kardashian Gets Sexual By The Northern Lights In Her First Shoot Since Robbery
YouTube
SHE. IS. BACK.
SHE'S BAAAAACK!
SHE IS BAHHHHHCK!!!
SHE
IS
BACK.
Kim Kardashian West's social media still lies un-updated since the tragic robbery at gunpoint that drove the reality star offline in October, but your girl is back for Love magazine's advent calendar.
Day 12 of the magazine's video calendar features Kimmy K vamping before the Northern Lights, decked out in Coach and Agent Provocateur in a clip directed by James Lima.
This year has been beyond rough on the "Keeping Up With The Kardashians" star.
Her Paris robbery drove the mother-of-two out of the public eye and her husband Kanye West's recent hospitalization for a "psychiatric emergency" left the couple to care for their two children, North, 3, and Saint, 1, while both managing major emotional distress.
The incidents, while seemingly unrelated, took a toll on the couple. A source told Us Weekly following Kanye's November breakdown,
He's been shaken up ever since the robbery in Paris. It did a number on him as much as Kim. The mere thought that anything could happen to her sent him in a tailspin. He wasn't sleeping and he was having nightmares about it.
A lack of sleep paired with a demanding tour schedule and a fear for the safety of one's family is enough lead even the least famous among us into a mental and emotional tailspin.
Fortunately for the family, Kanye has returned home from the hospital safely and Kim has returned to our screens.
In the video, Kim crouches in a fur coat while a tree-lined landscape lurks darkly in the distance and the Aurora Borealis lights up the sky. The score is far from the usual holiday fare, replaced instead by beats that match the video's eerie vibe.
Kim's sister Kendall Jenner also participated in this year's calendar, posing in Agent Provocateur for a slightly less intriguing (but way more boxing friendly) December 5 clip.
Praise whatever holiday spirit brought Kimmy back into our lives. May she remain safe and sound amongst the pine trees, never to leave us again.
Citations: A new horizon! Busty Kim Kardashian puts months of turmoil behind her to shoot VERY sexy space-themed shoot for LOVE magazine advent calendar (Daily Mail)