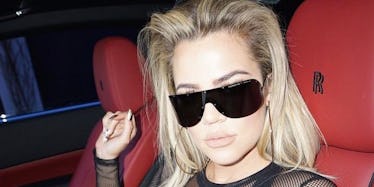 Khloé Kardashian Wants You To Get A $75 Facial For Your Vagina
Step aside, Gwyneth Paltrow — there's a new celebrity spokeswoman for strange vaginal maintenance procedures.
Khloé Kardashian is offering up her favorite products and treatments to keep her lady parts happy, including a pretty pricey facial that, let's just say, isn't meant for your face.
In the latest post on her app, Khloé sings the praises of vajacials, the latest vaj-related portmanteau in the great tradition of vajazzle. Kardashian writes the process includes exfoliation, toning and a "face" mask.
Just imagine — this could be your vajayjay!
As glamorous (or awkward?) as a vajacial sounds, it's going to cost you a pretty penny. Khloé suggests going to Stript Wax Bar in Los Angeles for the process, which lists the price at a cool $75.
Not exactly breaking the bank, but that could also buy you eight burritos from Chipotle, so it's nothing to sneeze at.
We probably shouldn't be too shocked Khloé is up for some out-there facials — lest we forget the "Keeping Up with the Kardashians" episode where her sister Kim literally used her own blood to undergo an experimental "vampire" facial.
So, I guess let us know if anyone actually follows Khlo's recommendation and gets this vajacial thing done... I'd love to figure out what the "face mask" thing they use actually is.
Oh, and vajacials aren't the only thing Khloé Kardashian is recommending for her vagina-having fans.
She also raves about an organic vaginal cream that serves as both a moisturizer and probiotic, and a pack of wipes to eliminate bacteria and odor.
Those two cleanliness products are nothing surprising, but her final recommendation had a bit of kink to it. Khloé talked up Ben Wa balls: glass or metal balls that stimulate pleasure when inserted into the vagina.
As Khlo noted, they were recently featured in "Fifty Shades Darker," when Christian Grey asked Anastasia Steele to wear two of them while they were attending a masquerade ball.
Although these weighted balls are best known for their... well... more pleasurable uses, Khloé focused on the fitness applications, raving that they help to strengthen and tighten the vaginal muscles.
Citations: Ways to Keep Your Lady Parts Happy (Khloe Kardashian App)