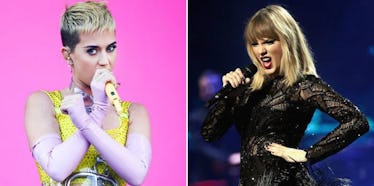 This Theory About Katy Perry And Taylor Swift At The 2017 VMAs Just Got So Real
Rich Fury/Getty Images/Kevin Winter/Getty Images for DIRECTV
We can't wait for this year's 2017 VMAs. Why? Oh, just because Katy Perry is the host. It was just announced today that the "Swish Swish" singer is going to be rocking the show, and fans already developed an awesome theory about a reunion between Katy Perry and Taylor Swift at the 2017 VMAs that suddenly might come true.
Hold onto your moonwoman, because this one's a doozy.
OK. So. It's no secret that Swift and Perry have had their, um, differences. Between Swift's "Bad Blood" and Perry's "Swish Swish," there's been enough shade thrown around to keep a blazing, desert plane cool in the middle of the day. Now, fans are thinking that the VMAs stage is the PERFECT PLACE for the two to hash it out once and for all, and save 2017 from itself.
Swift is currently being favored as a Video Vanguard Award potential, which is also the biggest honor of the evening. Of course, a run-in with Katy ON STAGE would be highly likely at that point, plus it would make the frenemy duo the most popular girls at the musician prom.
Even though Swift hasn't gifted us with any other music video than her single collaboration, "I Don't Wanna Live Forever," with Zayn Malik, anything is possible. Plus, Perry's been loose lipped about wanting to forgive and forget, and we wouldn't put it past her to use this opportunity to make it about her, but under the guise of "spreading peace."
In a previous interview with Australia's Today Show, Perry shared her feelings on Swift.
I mean, I love her, I always have. We've had our differences, but I just continue to say, 'God bless her on her journey.'
Taylor Swift, Katy Perry MIGHT let you finish... but first we gotta know, are you going to the VMAs or what?
Tune in Sunday, August 27th at 8:00 p.m. to find out.