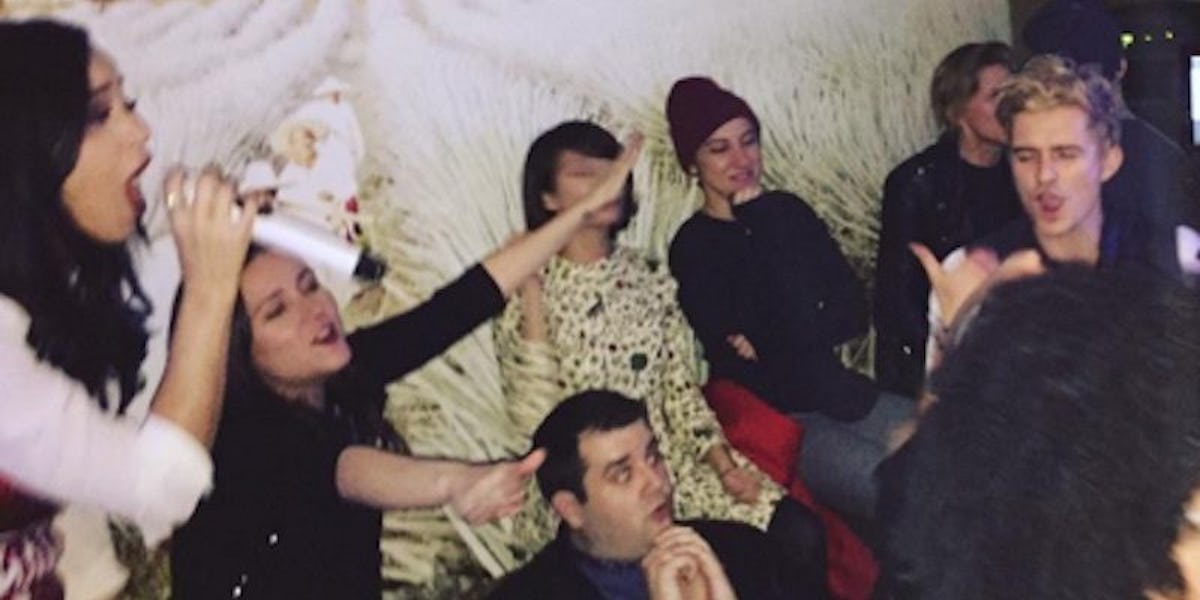 Katy Perry And Orlando Bloom Are All Of Us At Drunk Karaoke In Hilarious Video
Katy Perry performed her very best (by which I mean very terrible) karaoke in front of Orlando Bloom, which is how I know their love is real.
I mean, once you break out the Alanis Morissette in front of your SO, I think it's pretty much a done deal.
On Saturday, December 17, both Katy and Orlando turned up to celebrate Ronan Farrow's 28th birthday at a karaoke bar.
When you're Katy Perry, and you go to a karaoke bar where Alanis Moriessette's classic hit, "You Oughta Know," comes on, well, you basically have to step up.
Fortunately for us, Ronan recorded the beautiful moment in an Instagram video.
(Less fortunately for us, he was shouting along to Katy's singing, but since it was his birthday, we'll forgive him.)
Sadly, Orlando Bloom does not make an appearance in the video, but he was definitely there, cheering his girlfriend on.
We know this thanks to another photo posted by Ronan, in which you can clearly see Orlie really digging Katy's performance.
Look at that face. That is the face of a loving and supportive boyfriend/maybe fiancé.
So much love. So much support. Very... something.
Anyway, no one's entirely sure where the couple stands at this point, but Katy Perry was seen about three weeks ago with a huge ring on her engagement finger while out in New York City with Orlando.
And let's not forget what sources close Orlando Bloom said back in August, which was that he wanted to "settle down with Katy and have more kids."
And obviously, I can't leave out the now iconic work of art that is this photo of Orlando paddle boarding butt naked with Katy in France.
Now they're doing drunken karaoke together?
Sorry, Miranda Kerr, but I think this wedding is definitely happening... if it hasn't already, that is. Who really knows?
Citations: Katy Perry and Orlando Bloom Karaoked to Alanis Morissette Last Night (Elle)