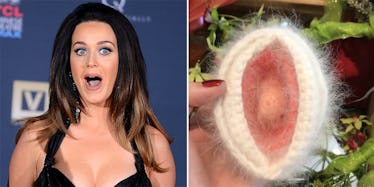 Katy Perry Was Given A Knit Vagina Because Nothing Says 'Happy Birthday' Better
REX/Shutterstock/Snapchat
Katy Perry's knit vagina is this year's must-have stocking stuffer.
With all the hype surrounding Halloween and Election Day, it's easy to forget we're right around two months away from Christmas.
We've got like 59 days left of shopping, which really just means you have about 58.5 days of worrying about having to do shopping and a half a day of convincing yourself the crap you picked up on December 23 is good enough to throw under the Christmas tree.
What if I told you I could solve all your Christmas shopping problems AND promote a female body-positive message?
Let me introduce you to Katy Perry's knit vagina.
Yup, in honor of her birthday and getting the chance to vote early, the recent 32-year-old was gifted with a Goddess Box featuring the knit hoohaa.
This thing easily takes care of your entire Christmas list. Get one for your mom, get one for your dad, hell, get one for yourself because you KNOW you deserve it after this mess of a 2016.
Perry, who has been one of the most vocal supporters of Hillary Clinton this campaign season, was gifted with the fuzzy vagina (new name for a specialty shot?) after voting early on the day before HRC's birthday.
She posted her civic journey to Instagram.
Earlier this year, she even stripped down for a Funny or Die sketch in an effort to remind people to get out and vote.
Why stop at fuzzy knit vaginas, though? Why not make your whole Christmas vagina themed?
Enough with all of the male-centric holiday baubles.
Decorating your Tannenbaum with a few vagina ornaments is the best way to complete the theme and show everyone this Christmas, you're giving the world the gift of stamping out the patriarchy.
You can buy these "nasty gals" for your tree thanks to FeltMelon's Etsy shop.
Get out and vote! Also, Happy Vagina Christmas!
Citations: Katy Perrys Birthday Celebration Included Bacon Cake Voting Early and a Fuzzy Vagina (E! News)