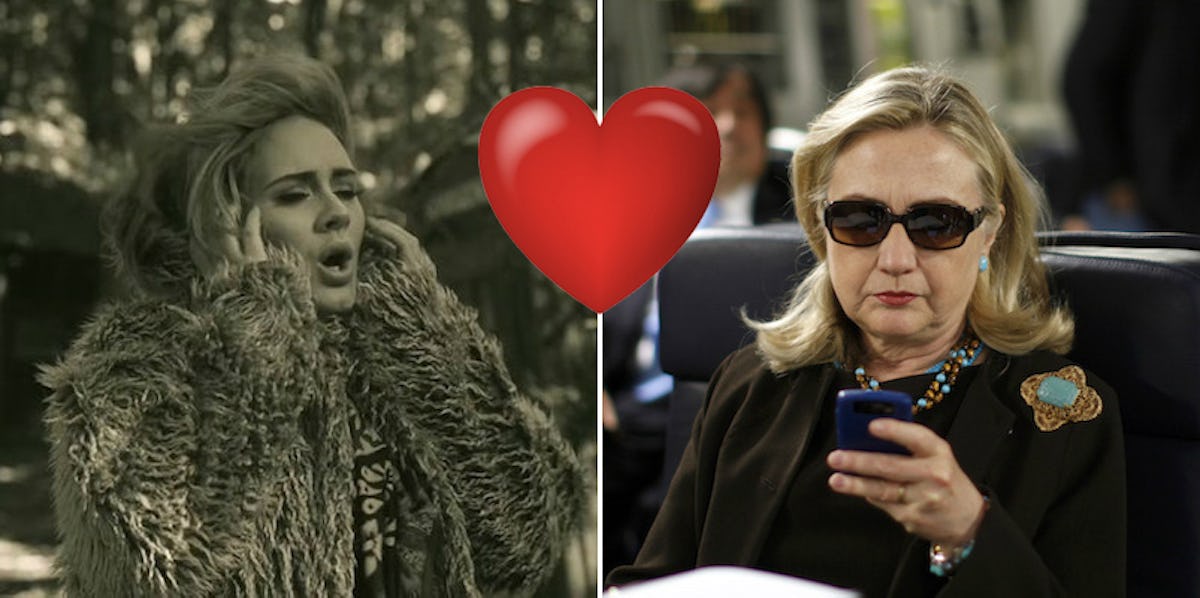 Adele Gifted Hillary Clinton A Savage Diss For Her Birthday At Miami Concert
YouTube / REUTERS
Hillary Clinton is having a good birthday week.
The Democratic presidential nominee is ahead in pretty much every national poll. She has an 84.6 percent chance of winning the presidential election, according to FiveThirtyEight, as of Wednesday morning, with less than two weeks until the election.
It's safe to say she's feeling pretty comfortable. And Tuesday night, she showed off just how comfortable she's feeling.
The night before her 69th birthday, Clinton attended an Adele concert in Miami, Florida. (FiveThirtyEight shows a 70.5 percent chance of Clinton winning Florida, which would be a big part of her beating out Donald Trump for the presidency.)
Basically, what this means is that Clinton was feeling so good, she decided she could take a night off and enjoy an Adele concert.
Girl has seen the polls and she is LIVING. https://t.co/jlhDFSjlqf — Kevin Boo'Keeffe (@kevinpokeeffe) October 26, 2016
And it seems as if Adele is feeling pretty good about Clinton, too.
Adele is not an American citizen, so she won't be voting in the election on November 8. But that doesn't mean she's not aware of what's going on. The American election affects basically everywhere else in the world, so people across the globe are paying attention.
During the concert on Tuesday night, Adele said,
I've got to be honest with you, I'm really glad I'm not an American at the moment, it's hard work.
She went on to voice her opinion on Trump, saying,
I wouldn't know what to do, I mean, I do know what to do: Don't vote for him, that's all I'm saying.
And then Adele went on to give Clinton the best birthday present she could ask for: an endorsement. Adele said,
I support Hillary Clinton 100 percent, I do.
Adele added that of course people can do whatever they want and vote for whoever they want. She was just telling them how she feels, which is that she supports Clinton and would not vote for Trump.
Meanwhile, on Wednesday, Trump went to Washington, DC, for a ribbon cutting ceremony at his new hotel. This was viewed quizzically as, with two weeks left, many believe it would be better for him to be out campaigning in battleground states.
Trump campaign manager Kellyanne Conway addressed this on the "Today" show on Wednesday. She said,
Hillary Clinton has time to go to an Adele concert and everyone thinks it's really cool. Donald Trump stops off to unveil just an incredible, stunning piece of architecture — a new, first-class hotel — and everybody's hair is on fire.
Conway will get to stop making up excuses for Trump's campaign behavior in just 13 days.
Elite Daily and 50 other media organizations partnered with Rock The Vote to register 100,000 women to vote. You can register right here (and men can use it too) :
Citations: FiveThirtyEight, Independent