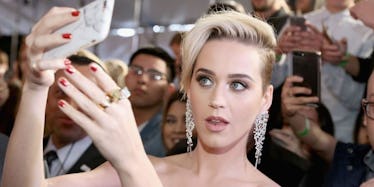 Katy Perry Called Herself A Kardashian And TBH, She Looks The Part
Jonathan Leibson/Getting Images
Kalling all Kardashian fans! A new family member has been added to the group and holy Caitlyn Jenner with a side of Kris, does she fit right in.
If you aren't prepared for more word/name play, then I suggest you stop reading right now.
Katy Perry released a photo of herself this past weekend on Instagram calling herself "Katy Kardashian," and ya know what? You can call me Jamie Jenner if she doesn't look EXACTLY like them.
Decked out in bleached Kim hair, flowing Kylie braids, a skin-tight Khloé silhouette, perfectly peaked Kendall eyebrows and rocking a no-bullshit Kourtney attitude, Katy looks like she walked right out of her traditional Candy Land concert set and right into Kris Jenner's weird library/office situation room we all know and love.
Katy, you look fierce.
The "Firework" singer's fame went as far as to tag all of her pseudo sisters in what could be confused as a shady move, but you and I both know it is actually a well-placed joke.
I mean, COME ON. She even looks exactly like Kim Kardashian's new Kimoji character.
Coincidence?!?! I think not.
I mean...
Hello...
Like...
...looks like a Kardashian to me.
No hard feelings between sisters, though. Both Kim and Kylie liked her photo, and they would, too, BECAUSE THAT'S WHAT FAMILY'S FOR!
This isn't Katy's only transformative experience, as only a day earlier she posted another uncanny photo of herself dressed up as Guy Fieri.
Yes, that Guy Fieri.
Katy, you're such a chameleon! Only you can pull off a transformation like this, morphing from arguably the greasiest, sweatiest, gaudiest man on television to being a sibling of the royal, synthetic, glam family.
Of course, no word yet if Katy will be making an appearance on the "Keeping Up" series or attending Kris' next very chill BBQ that will almost definitely feature outrageous bubble balloon words -- but we can certainly hope.
Baby, we're all fireworks and also all Kardashians.