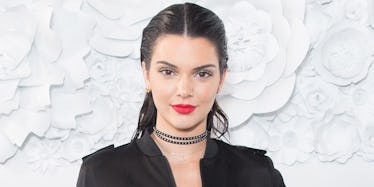 Kendall Jenner's Response To Rumors She Got Plastic Surgery Is Actually Sad
REX/Shutterstock
Ever since Kendall Jenner deactivated her Instagram account in November of last year, bizarre "facial reconstruction" rumors have been floating around.
Despite the fact her Instagram account has been reactivated, fans (and haters) suspected the 21-year-old star may be going under the knife to enhance her physical appearance.
It all started when Kendall allowed sister Kylie Jenner to do her makeup.
Kylie's beauty techniques used on Kendall confused fans who thought Kendall might've gotten lip injections.
Kylie took to Snapchat, saying,
You guys, Kendall let me overline her lips today with lipliner and everyone thinks she got lip injections! I'm sorry, Kendall.
For weeks, people believed Kendall Jenner might've gotten some plastic surgery done. Kylie's makeover didn't help debunk those claims and neither did Kendall deactivating her Instagram account.
Fans took to Twitter to address the rumors.
Now, Kendall Jenner is speaking out to set the record straight regarding the rumors. The 21-year-old supermodel just took to her official website and app to address the claims in a post titled "The Most Upsetting Rumor."
Kendall stated,
When I deleted my Instagram back in November, people were saying, 'Kendall deleted her account to have full facial reconstruction!' I think they might have been referencing the day Kylie and I did a live stream for our book. Kylie saw it all unfold and felt bad, so she went on Snapchat and took the blame.
Ah, well, that explains Kylie's random Snapchat in November.
Here's the video.
As for why these rumors were even sparked in the first place, Kendall concluded,
Sometimes I feel like people just want me to lose. People forget that they're talking about real people who have real feelings.
I totally agree with that! These days, on social media, people are constantly looking to point the finger at others to shift the spotlight away from their own personal issues. Some people are just bored and have nothing else to talk about.
Therefore, celebrities are forced to grow thick skin to combat the obvious fabrications that surround their lives. As a result, these stars are usually the victims of harsh digital rumor mills.
Thank goodness they have their own websites and publicists!
To be fair, though, Kylie Jenner had to know messing with Kendall's lips would have sparked outrage.
I mean, this is KYLIE JENNER we're talking about here, people...
Citations: Kendall Jenner Address Facial Reconstruction Rumors (Teen Vogue)