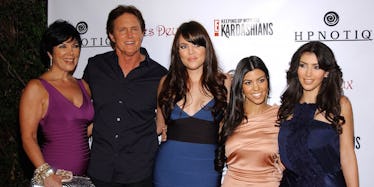 The Kardashians Are Cursed In The Fall, And This Intense Timeline Is Proof
REX/Shutterstock
I don't know what the Kardashians did to the Gods of Autumn but MAN do they have awful Octobers.
A few weeks ago, my Timehop reminded me that a year ago, I reported on Lamar Odom's hospital scare.
If you don't remember, the former Laker star and technical Kardashian family member was rushed to the hospital after suffering a series of strokes at a Nevada brothel.
He's essentially spent the past year recovering from his death scare, only recently making his normal return to the public spotlight, which is essentially just appearances on different family member's Snapchat stories.
What's weird is that Lamar stroking out mid-Hookerfest 2015 makes a ton of sense... Not the act itself, that was a pretty big shock, but the timing in which it happened.
Be it total coincidence or planned puppet-mastering from the Kardashian momager herself, the Kardashians seem to have everything bad happen to them during sweater weather.
I've talked a little bit about this previously, but the Kardashians don't really operate on a January to December calendar.
It seems like their news stories happen pretty evenly spaced out starting in late September to early October and go in a 12-month cycle.
I call this phenomenon the "Caldashian New Year" effect. The family has invented their own 365-day year rotation. In a way, they are claiming they are more important than the sun in the process.
This family doesn't have mid-Caldashian New Year tragedies. They seemingly go through major life events and then spend the rest of the CNY just dealing with it.
If there is any doubt about this, here is a small look back at the past four Kardashian September-through-Octobers.
October 8, 2013: Kris and Bruce split.
After 22 years of marriage, the power couple decided to end things back in 2013. The couple released a joint statement after the decision was made, saying,
We are living separately and we are much happier this way, but we will always have much love and respect for each other. Even though we are separated, we will always remain best friends and, as always, our family will remain our number one priority.
Both Bruce (later Caitlyn) and Kris stayed active members of the family and TV show after the split.
September 20, 2014: Kim Kardashian's nude photos leak.
In 2014, Kim became a victim of "The Fappening" after personal nude photos leaked onto the Internet.
She was far from the only one to have this leak happen to her as Jennifer Lawrence, Kate Upton, Avril Lavigne, Vanessa Hudgens and a bunch of other celebs also had their personal photos leaked online during the event.
Though this was obviously not the biggest deal to anyone who wanted to see Kim naked as a sex tape already exists, it was the first time that the family had to deal with technological invasions of privacy in such a public manner.
One of the bigger fallouts from the photo dump was Kim claiming this was a "wake-up call" to the existence of hackers.
October 13, 2015: Lamar Odom has a stroke.
The former LA Laker was found unconscious after spending four days at Dennis Hoff's Love Ranch South, a Nevada brothel.
He reportedly suffered a series of strokes before being transported to a local hospital.
Eventually, he became healthy enough to be airlifted to a Los Angeles hospital where he began an extensive rehabilitation process, one which doctors were unsure would get him back to where he was before the stroke.
This slowed up, but did not stop, Khloé's attempt to divorce Odom though.
She stayed by his side through the ordeal, but eventually continued divorce proceedings after promoting her new book.
October 3, 2016: Kim is robbed.
After being assaulted by some random dude in the streets of Paris days earlier, robbers broke into Kim's hotel room during Paris Fashion Week. They proceeded to tie her up at gunpoint and lock her in the bathroom.
Eventually, the robbers left with roughly $10 million worth of jewelry, including a $4 million ring that Kanye gave her.
The event was so traumatic, it forced Kanye to stop his concert mid-song and run off to be by her side.
The group behind the robbery was never identified, and Kim has sort of gone into hiding since the incident.
Since then, she has not made any major public appearances or social media updates, except for an update on her website by her assistant that told us she was taking a break and that Kimojis would still be a thing.
AND NOW FOR A BONUS TERRIBLE SEPTEMBER THING!
September 30, 2003: Robert Kardashian dies.
These four (five) stories represent the four (five) biggest negative events to happen to the family in the past four years (and then once like 13 years ago).
Admittedly, smaller negative incidents have happened mid-year for the Kardashians, like Kourtney's split from Scott, Kim's sex tape leak and her later divorce from Kris Humphries.
But the big ones clearly all happen during sweater season.
I've come up with three potential explanations for this phenomenon:
Kris Jenner controls the flow of events coming from that family. She somehow figured out a way to consistently have negative crap happen to their family in a yearly fashion so that she maintains some control over the media juggernaut she created.
Kris Jenner did in fact offend the Gods of Autumn. She talked smack about Ukko, the Finnish weather God of thunder and the Harvest at a party she attended. He overheard her and vowed to rain pain and suffering over that family every year around the harvest. For it is decreed, "s/he who upsets Ukko will know nothing but suffering during his time of reign."
This is all a dumb coincidence, and I need to find a new hobby.
What do you guys think?