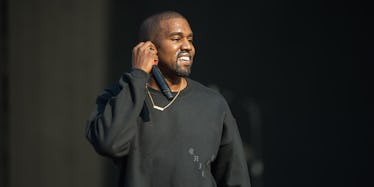 Kanye West Spotted In Studio Following Kim Kardashian Robbery
REX/Shutterstock
HMMMMMM. Is Kanye West using music as a way to cope? It sure looks that way!
The "Famous" rapper was spotted leaving Milk Studios on Thursday morning along with several security guards.
He was reportedly in the studio for four hours with Kim Kardashian's good friend Jonathan Cheban and Kris Jenner's boyfriend Corey Gamble.
It's unclear what went down inside those doors, but it sure does look like Kanye's planning a new track... perhaps about the Paris robbery???
Kanye and Kim Kardashian have been off the radar this past week following the terrifying incident that happened on Sunday night.
While Kim was in Paris, five armed men broke into her hotel room and stole more than $10 million worth of jewelry.
They gagged and bound the 35-year-old star as she pleaded for her life.
A source told E! News,
She begged for them to let her live and [said] she has babies at home. Then they wrapped her mouth in tape and put her in the bathtub. She thought they were for sure going to kill her.
Kanye and Kim made their first appearance since the attack on Monday afternoon when they reunited in New York City.
The couple was also photographed leaving their NYC apartment on Thursday with Saint and North West.
In the photos, Kim was wearing a sweatshirt and baseball cap and looked almost unrecognizable.
Video footage captured the family exiting the building and rushing into a black Escalade surrounded by security.
Neither one has commented on social media about the attack, but Kanye did postpone his tour to spend time with his wife.
The rapper is set to perform again on October 7 in Chicago, but for now, he's doing what he can to support Kim and their family.
Citations: Kanye West In Studio (Daily Mail)