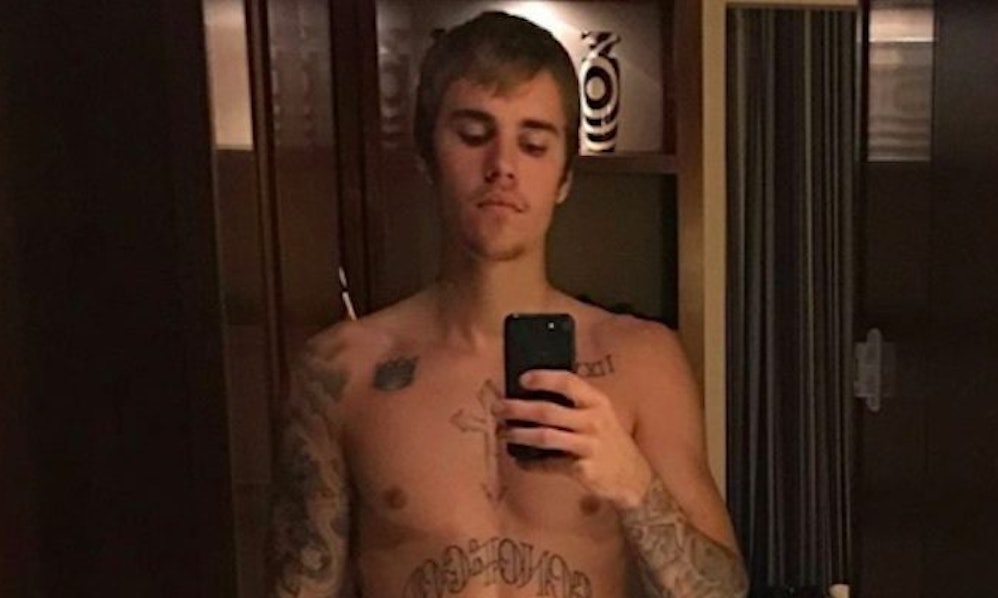 Instagram
Justin Bieber's Shirtless Selfies Are On His Dad's Instagram
Four months ago, Justin Bieber left Instagram.
Three months ago, he "accidentally" came back  — and then left again.
Last month, he told an audience he definitely, 100 percent would not come back to Instagram, saying, and I quote,
Instagram is for the devil.
So, all things considered, it's pretty freakin' hilarious that the Biebs has been using his dad's Instagram account to post his selfies.
I guess there's technically no way to prove it wasn't Jeremy Bieber, Justin's 41-year-old dad, who posted this shirtless selfie of the pop star three days ago:
Justin has his ginger hair in this picture, which means it's fairly recent. Like, from the last month at least.
So, either Justin Bieber texts shirtless selfies for his dad to post for him, or he takes his dad's phone and posts them himself.
I'm not sure what's worse, but I'd like to think it was Justin who typed out this caption, trying to get into the mindset of a dad.
The caption reads,
Built like I was now I'm fat lol #handsomeson
"Handsome son."
God, please say the Biebs wrote that about himself.
A week ago, another Biebs selfie was posted to Biebs Sr.'s account, though this time Justin had a shirt on.
The caption reads,
Kind eyes.
Y'all, I can't with this kid. I really can't.
I mean seriously, what happened to Instagram being a tool of Satan, Justin?
Last month he stopped his concert in London just rant about how terrible Instagram is.
He said,
Who thinks I should get my Instagram back? I don't wanna get my Instagram back. Instagram is for the devil. I think Hell is Instagram. I'm like, 90 percent sure. We get sent to Hell, we get like, locked in the Instagram server. I'm stuck in the DMs, I'm tryna, like, find my way out.
Guess it's just too hard to resist the likes for that poppin' selfie light, eh Biebs?
And let's not forget how he tried to pretend reactivating his account after he quit was a total accident.
He supposedly "quit" the social media platform back in August because his sort-of girlfriend was getting too much hate in the comments.
But, I think we can agree: He never really quit at all.
In "Brokeback Mountain" terms, Bieber is Jake Gyllenhaal and Instagram is Heath Ledger.
Honestly, I love it so much.
I hope Bieber's "dad" posts some butt shots next!
Citations: Since Justin Bieber Deleted His Insta, He's Been Sharing Shirtless Selfies on His Dad's Account (Seventeen)