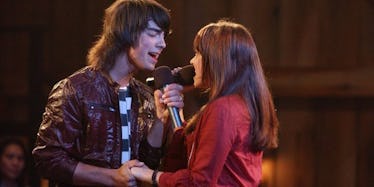 Joe Jonas Is Ready To Make An R-Rated Version Of 'Camp Rock' With Demi Lovato
Camp Rock
Joe Jonas and Demi Lovato are all grown up and music superstars in their own right now, but we're never going to forget their Disney Channel beginnings — especially not the amazing gem that is "Camp Rock."
Now that Jonas is the frontman of the successful dance-rock group DNCE and a honest-to-goodness underwear model, you'd think he'd want to go full Miley on his Disney days — burying that long, flat-ironed Shane Gray hairdo in the past as Cyrus has done with her "Hannah Montana" blonde wig.
But no — Joe Jonas actually loves to talk about "Camp Rock," and apparently so do his former co-stars Demi Lovato and Nick Jonas!
In fact, Jonas is all-in for starring in another "Camp Rock" movie, but from the way he describes his vision for it, it probably won't be airing on Disney Channel...
Jonas spoke about his idea for a dark, adult, R-rated version of "Camp Rock 3" to Marie Claire, saying he's been joking around about the idea with Demi and Nick for a while. He told the magazine,
If it made sense, sure. For all of us -- Demi, Nick, it would be funny to do a spin on it. Do the graduating days, make it kinda dark. An adult film. Well, not an adult film. An R-rated film. We've joked around about the idea a couple times.
And this isn't even the first time Joe Jonas has brought up the idea of a third "Camp Rock" movie. Last month, he posted a photo with Lovato and teasingly captioned it "CR3?"
I mean, clearly all the important people are down for this movie, so let's get to making it, huh?!
And as ridiculous as it sounds, the R-rated twist to the franchise actually makes a lot of sense now that it's been more than eight years since the original "Camp Rock" was released in 2008.
Joe, Demi and Nick have all evolved from squeaky-clean Disney teens into pop icons and sex symbols in that time, so it really just wouldn't be believable to see them revert to G-rated singing and dancing.
I mean, Nick has a song called "Chains," and Demi Lovato announced her sexual liberation in no uncertain terms with "Cool for the Summer" a couple years ago. And Joe has no qualms about flaunting his bod in his new Guess underwear campaign.
So it sounds like we might be going back to camp sometime soon — it just may be a lot different than we remembered it.
Citations: Joe Jonas Talks Trump, Wandering Around Craft Services Shirtless, and the Elusive 'Camp Rock 3' (Marie Claire)