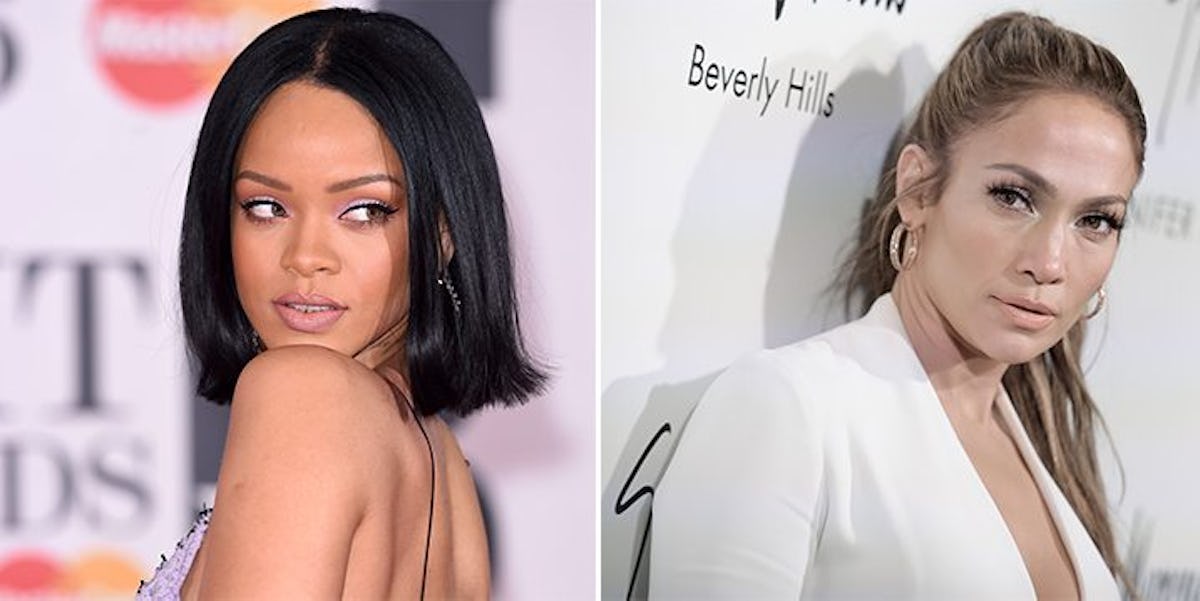 Sorry, JLo: Drake Will Always Love Rihanna, According To Video From Concert
REX/Shutterstock
Ruh roh, this isn't good news for Jrake fans -- I don't know if JLo and Drake went out long enough for their own couple name, but that's the one I'm going with.
The footage is kind of grainy and the audio is fairly messy, but someone uploaded a video to Twitter that may prove Drake never really got over Rihanna.
The 45-second clip features Drake talking to his audience, at one point gushing about his ex and "Umbrella" singer.
During the pro-Rihanna rant, Drake told the crowd,
You played two Rihanna records, that [unclear], she's like the queen of everything. If you want women to feel good about themselves... That's what you gotta do, you gotta play the RiRi records.
On a less weird but still slightly weird semi-unrelated note, yesterday Drake had a mini-reunion with ex Nicki Minaj, so it's safe to say this week has been one big romantic TBT festival for Drizzy.
The release of this footage comes at a weird time as Rihanna recently stopped following both Drake and JLo on Instagram, presumably because the two were hooking up at some point over the past month.
Let's be honest: There is a good chance Drake will never get over Rihanna.
The 30-year-old pop singer has had every opportunity to mentally and emotionally get over RiRi but has not been able to move out from under her obsessive umbrella (ey ey ey).
Think about it. Drake has had the entirety of Hollywood at his disposal. He's dated people like Zoë Kravitz, Tyra Banks, Kat Dennings, Teyana Taylor and Rita Ora.
He was even famously probably hooking up with Taylor Swift for a few weeks about a month ago.
If none of those girls can get Drake over Rihanna, then it is a lost cause. Once you go Rihanna you never go Backhanna.
Citations: Drake Calls Rihanna The Queen During Concert Says Her Music Makes Women Feel Good About Themselves (Entertainment Tonight)