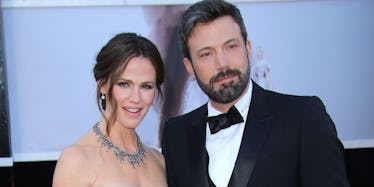 Jennifer Garner Is Ready To File For Divorce From Ben Affleck, So Hope Is Dead
REX/Shutterstock
Jennifer Garner is finally about to divorce Ben Affleck, after announcing their split almost two years ago.
According to a report from Us Weekly, Garner is "gearing up" to file the paperwork to officially end the couple's decade-long marriage.
For a while there, we thought Jen might not even go through with the divorce — back in July, there were reports she kept pushing the filing back.
Not to be a total downer, but I'm actually happy Jennifer found the strength to officially end this. She finally ripped off that Batman Band-Aid!
It's been almost exactly a year since she gave that heartbreaking interview with Vanity Fair where she opened up about the alleged affair Affleck had with their children's nanny.
Garner said,
It's not great for your kids for [a nanny] to disappear from their lives. I have had to have conversations [with my children] about the meaning of 'scandal'…
Oof. How can you stay with a guy who puts you through that, you know?
That's not to say Jen and Ben aren't on good terms. In fact, they seem to be on pretty amazing terms, in part for the sake of their three children.
They even still take vacations together. In an interview with the "Today" show last summer, Jennifer opened up about a family trip to London the five of them took.
She said,
Ben was working in London on 'Justice League' and I felt like, 'Well, the kids should have that experience.' He and I are great friends and we just all went en masse. The kids and I had an amazing time, and he worked hard and got to join us for some. I want them to see everything's OK.
These might be the best terms from a Hollywood divorced couple I've ever seen.
Dare I say... divorce goals? Is that weird to say? Probably, yes, but you get my point.
Citations: Jennifer Garner to File for Divorce From Ben Affleck Nearly Two Years After Announcing Split (Us Weekly)