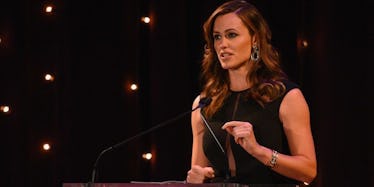 Jennifer Garner Finally Speaks On Nannygate And Her Divorce From Ben Affleck
Getty Images
Jennifer Garner has not had an easy year.
The usually cheerful actress spoke to Vanity Fair about her marriage to fellow A-lister Ben Affleck and his alleged affair with the household nanny, Christine Ouzounian.
Garner said the debacle was especially difficult on her and Ben's three children: Violet, 10, Seraphina, 7, and Sam, 4.
The 43-year-old shared,
It's not great for your kids for [a nanny] to disappear from their lives. I have had to have conversations [with my children] about the meaning of 'scandal'… I turned on CNN one day and there we were. I just won't do it anymore. I took a silent oath with myself last summer to really stay offline. I am totally clueless about all of it.
Contrary to tabloid reports of 2015, the "Miracles from Heaven" star insisted it was not Ouzounian who drove the wedge in her marriage to Affleck.
Garner said,
Let me just tell you something. We had been separated for months before I ever heard about the nanny. She had nothing to do with our decision to divorce. She was not a part of the equation.
Regardless of the decision to divorce and Affleck's "complicated" nature, Garner said she harbors no regrets.
She told the magazine,
I didn't marry the big fat movie star; I married him. And I would go back and remake that decision. I ran down the beach to him, and I would again. You can't have these three babies and so much of what we had. He's the love of my life. What am I going to do about that? He's the most brilliant person in any room, the most charismatic, the most generous.
Despite the actor's many positive attributes, his estranged wife also alluded to a dark side.
Garner said,
I always say, 'When his sun shines on you, you feel it. But when the sun is shining elsewhere, it's cold.' He can cast quite a shadow.
Though the couple's relationship, or lack thereof, remains a tricky one to navigate, Garner is prioritizing her children's needs over her own heartache.
She shared,
It's not Ben's job to make me happy. The main thing is these kids -- and we're completely in line with what we hope for them. Sure, I lost the dream of dancing with my husband at my daughter's wedding. But you should see their faces when he walks through the door. And if you see your kids love someone so purely and wholly, then you're going to be friends with that person.
But, no matter how solid she strives to keep her friendship with Affleck, Garner refuses to play into any trite ex-wife cliches.
When asked about her ex's new tattoo -- a phoenix rising from the ashes -- spanning his entire back, the actress strongly asserted,
You know what we would say in my hometown about that? 'Bless his heart.' A phoenix rising from the ashes. Am I the ashes in this scenario? I take umbrage. I refuse to be the ashes.
You're nobody's ashes, Jen. NOBODY'S.
Citations: Exclusive: Jennifer Garner's Frank Talk About Kids, Men, and Ben Affleck (Vanity Fair), Jennifer Garner Breaks Silence About Ben Affleck Split and the Nanny Scandal (Entertainment Tonight)