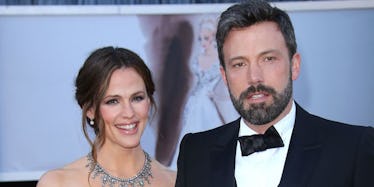 Ben Affleck And Jennifer Garner May Not Be Getting Divorced After All
REX/Shutterstock
OK, who's going to hold Jennifer Garner down for me while I lecture her about how much better she is without Ben Affleck?
Because apparently the married couple of over 10 years might be wavering on the decision to divorce after all.
According to a report from Us Weekly, Ben and Jennifer have put the divorce talk on hold.
An anonymous source close to Jennifer reportedly spoke to the magazine and said,
Jen mentioned that the divorce was going through very soon, and then a few weeks ago, things changed. It does not seem to be moving in that direction... Jen seems to still be in love with Ben but doesn't allow her mind to go there. She just focuses on the kids.
It's been over a year since the 44-year-old actress and 43-year-old actor announced their divorce, and so far, neither of them have actually filed their paperwork.
But back in March, Jennifer sounded pretty sure of her decision to divorce.
It's all very confusing, and new statements from these sources just makes me more confused.
According to Us Weekly, another source also weighed in on Ben's side of things, saying,
If it was up to Ben they would be together. He feels like he can't live without Jen.
Still, the lawyers promise a divorce is coming! So who knows?
C'mon, Jen, I know you can do this. Rip off that Batman bandaid and be done with this.
Citations: Ben Affleck, Jennifer Garner Put Divorce on Hold: 'Things Changed' (Us Weekly)