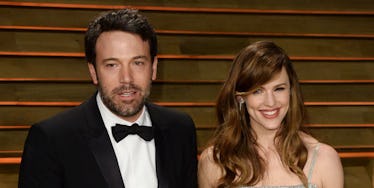 Jennifer Garner Reveals Why She Still Spends So Much Time With Ben Affleck
EX/Shutterstock
Move over, five-time Emmy Award-winning ABC comedy because Jennifer Garner and Ben Affleck are the REAL modern family.
In the wake of rumors earlier this month saying the couple might not be getting that divorce after all, Jennifer Garner once again opened up about her rocky marriage.
In an interview on Thursday for NBC's "Today," the 44-year-old actress updated the world on how things were going with Ben.
She said,
We are definitely a modern family.
From what it sounds like, the couple, who officially split last summer, are still separated, but living in the same home and on good terms for the sake of their three children.
The family even travelled to London together recently, a point "Today" interviewer Natalie Morales brought up.
Jennifer said in response,
Ben was working in London on 'Justice League' and I felt like, 'Well, the kids should have that experience.' He and I are great friends and we just all went en masse. The kids and I had an amazing time, and he worked hard and got to join us for some. I want them to see everything's OK.
Natalie praised the ex-couple for their ability to work as a team to focus on their children's happiness, to which Jennifer replied they really didn't have a choice in the matter.
She said,
It has be [about the kids.] You don't have a choice. It has to be.
Most mature breakup ever!
Citations: Jennifer Garner on Her New Normal With Ben Affleck: "We Are Definitely a Modern Family" (E! News)