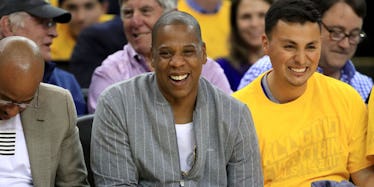 JAY-Z Looks So Happy Following The Birth Of His Twins – PHOTOS
Ezra Shaw/Getty Images
What is more fascinating to you guys: the fact that Beyoncé and JAY-Z finally gave birth to their twins OR that JAY-Z reportedly goes to Soul Cycle?
Trick question: Both are fascinating and equally great news. YOU WOULD, JAY.
On Monday, June 19, the 47-year-old rapper was spotted leaving his Beverly Hills mansion to get in a quick cycle, and was photographed grinning ear to ear on his way out of his sweat session.
I mean... makes sense.
This past week, wife and goddess Beyoncé reportedly gave birth to her twins, allegedly a boy and a girl as reported by Entertainment Tonight, and that's not the only thing this family is bringing into the world.
JAY-Z is coming out of retirement to bring us a new album, 4:44, as announced on Sunday, June 18. This will be JAY's thirteenth album and fans can tune in exclusively on Tidal. Duh.
Plus, there was the whole part where he was the first rapper inducted into the Songwriters Hall of Fame and got a special shout out from President Obama.
If I was JAY-Z, I'd have a lot to smile about too and the calories he burned off in that Soul Cycle class would just be bonus points.
No word yet on what the twins' names are, but don't worry, the internet has loads to speculate about.
For his part, JAY (whose real name is Sean Carter) is switching up HIS name again, notoriously taking the hyphen out between Jay and Z, and now putting it back in and also capitalizing everything.
JAY-Z is in the house and he's bringing a baby posse with him, so everyone get used to it.
TMZ reports that the twins were kept in the hospital for a few days post-birth due to a "minor" issue, but rest assured, world, that we can all take a cue from Dad-Z's smile and celebrate.
Congratulations, JAY, Bey, Blue, and world!