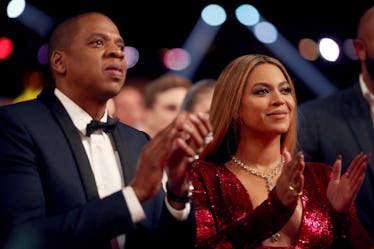 Beyoncé And Jay Z Just Announced Their Twins' Names And We're In Love
Getty Images
It's been reported that earlier this week, Beyonce gave birth and welcomed her twins with Jay Z into the world.
I'm crying. You're crying. We're all crying.
The world will never be the same. According to Us Weekly, there are now two more humans with Queen Bey's DNA living, breathing, and — one day — walking this planet, and none of us are worthy. Elite Daily reached out to reps for both Beyonce and Jay Z for confirmation on the news, but did not hear back at the time of publication.
We'd been waiting for this day since our queen first rocked our world back on Feb. 1 with the most epic pregnancy announcement of all time.
Of course, as soon as we found out the baby Beys were here, the internet — being the insatiable monster that it is — needed to know names. I mean, come one, we have to know what to call Blue Ivy's younger siblings!
Well, that's what we're still waiting for. Womp womp. Us Weekly and the NY Daily News have both reported that Beyoncè gave birth earlier this week, and that's it. That's all we know. No specific date, no names, not even their sexes.
So of course, Twitter is freaking out, waiting to find out what Bey and Jay named their new additions and making predictions in the meantime.
Predictions are, obviously, not enough, and fans are making their desire — no, need — to learn the names very, very clear.
But we have every right to be impatient, since there's a really good chance these names will inspire our new favorite songs. Beyoncè and Jay Z's daughter Blue Ivy, who is 5 years old now, already inspired two songs from her dad and one, "Blue," from her mom.
Beyoncè's and Jay Z's next albums might be at stake, people. We'll probably be hearing these names for years to come, so the sooner Bey makes the big announcement and lets us start getting used to them, the better.