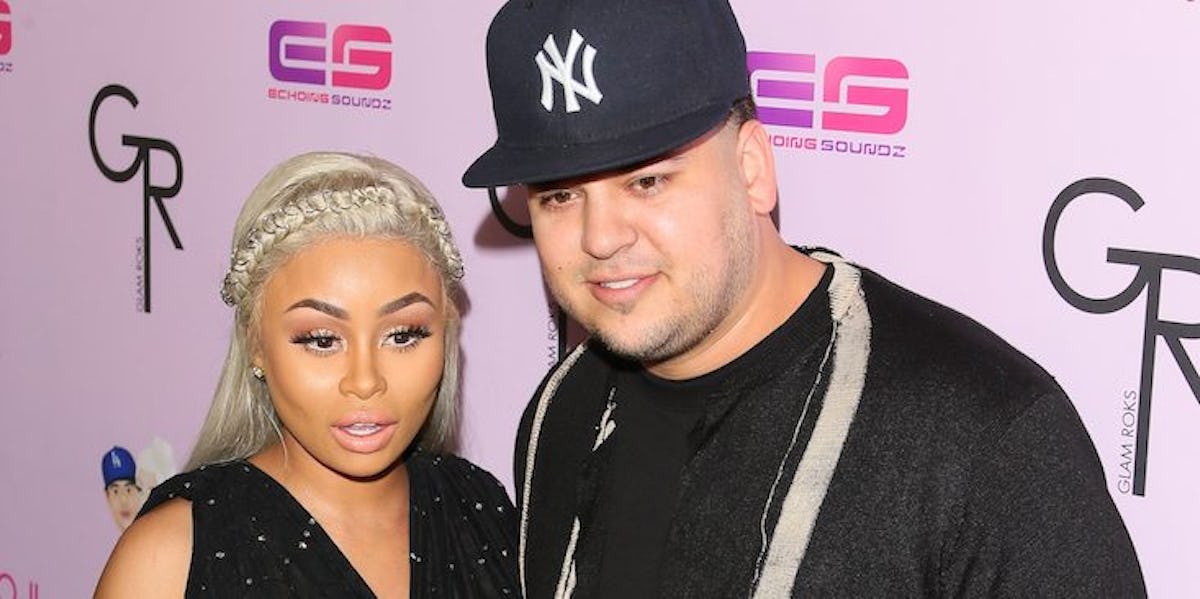 Here's How Kylie Jenner's Reported Baby Would Be Related To Dream Kardashian
JB Lacroix/ Getty Images
As you probably know, the Kardashian family is a rather confusing one. Between husbands, wives, exes, and children, it can be hard to keep track of who is who -- especially if you haven't "kept up" with them in a while. Heck, even those who do religiously watch Keeping Up With The Kardashians are probably confused about who's related to who most of the time. Speaking of them, did you hear the news about Kylie Jenner? Ha! Of course you did. Anyone who internet connection and a working TV probably knows that Kylie Jenner is reportedly pregnant with her first child. The 20-year-old might be bringing another Kardashian into the world, and her famous family is about to get bigger. Kylie's reported child will have tons of family members to grow up with, including Dream Kardashian. But how will Kylie Jenner's baby be related to Dream Kardashian? Listen up, ya'll, because we're about to dive into their family tree.
Before we begin, let's talk about who Dream Renee Kardashian even is. For starters, Dream Kardashian is Rob Kardashian and Blac Chyna's daughter. She was born on Thursday, Nov. 10 to the once-couple. However, Rob and Blac recently split and now share a 50-50 custody of Dream. Still, Dream is a cutie pie who gets tons of love from her mama and papa. See a picture of her below.
See?! I told you she's adorable! Now that you know who Dream is, we can start dissecting the relationship between her and Kylie Jenner's reported baby.
OK, let's begin with Rob. Rob Kardashian is Kylie's older brother, which makes Dream Kardashian Kylie's niece. Did you get that? Good. Knowing that Dream is Kylie's niece (and that Rob is Kylie's brother), let's fast forward to when Kylie has a child. That child (who is rumored to be a girl), will be Dream's first cousin, and Rob will be her (or his) uncle.
It's as simple as that, right Aunt Blac?!
Anyway, Kylie has loved Dream from the moment she entered the Kardashian family, and she posts about her on social media from time to time. Take this adorable moment when Kylie cuddled with sleepy Dream Kardashian on Snapchat back in March. The Snap shows Dream Kardashian with a pink pacifier in her mouth posing with Kylie for the camera. The picture's caption reads, "sleepy baby."
It's honestly the cutest, and you can already tell Kylie is a natural with babies.
Right now, Dream is about 10 months old. According to People, Kylie is due in February. With that being said, Dream and Kylie's reported baby are going to be super close in age, which means they're bound to have a go-to cuz' for every family gathering in the Kardashian household.
Dream isn't the only baby Kylie's been close with in the family, though. The 20-year-old has also been spotted hanging out with Tyga's son, King Cairo. This is only a tiny bit awkward, because Blac Chyna is also King's mother. (I told you their family is confusing!) Nevertheless, Kylie has spend a decent amount of time with both babies -- and if the rumors are true, I suppose she's ready for her own.
So far, most of the Kardashians have kept quiet about Kylie's reported pregnancy. Kris Jenner responded to the rumors in an interview on Saturday, Sept. 23, and said "I just woke up this morning. She's not confirmed anything. I think it's kind of wild that everyone is just assuming that that's just happening." Meanwhile, Kim posted a picture of a seahorse on Twitter and left everyone searching for even more answers.
Either way, if Kylie Jenner has a child in February, she'll have a loving family with lots of cousins -- including Dream.