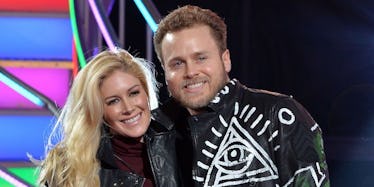 'The Hills' Stars Heidi Montag And Spencer Pratt Are Expecting First Child
REX/Shutterstock
Heidi Montag and Spencer Pratt are officially bringing a child into this world together.
The former stars of "The Hills" announced the news in the most Speidi way possible: in an exclusive to a celebrity gossip magazine.
Yep, the 33-year-old Spencer Pratt spilled all the deets on his unborn child in the latest issue of Us Weekly, including the moment Heidi told him she was pregnant.
He said,
The look on her face, I can't even describe it. She was literally glowing. I thought she was about to say she made muffins or banana bread. Heidi said, 'I'm pregnant.' I was like, 'Whoa, that's way more exciting than banana bread!'
Well, banana bread and babies are the two things women are good at making, am I right, Spencer?
Heidi, unsurprisingly, had a slightly more emotional take on the moment.
"I started crying, and he embraced me," she told Us Weekly.
"Heidi has wanted to be a mom since the day I met her,"  Pratt said. "She has planned for and thought about this."
The couple does not yet know the sex of their child, but the newest Pratt is due for an October 19 birth. That makes Heidi about 12 weeks along.
Heidi and Spencer are officially the fifth and sixth "Hills" stars to get pregnant within the last year.
Then came Lauren Conrad, who announced her pregnancy in January, and is now sporting an impressive baby bump.
Next up was Whitney Port, who announced she was pregnant in February with her own baby bump post.
Then came Jason Wahler just a few days later, who took to Instagram to announce his wife, Ashley, was, yes, pregnant.
And now Speidi has fallen, too.
Damn. These hills are fertile AF.
Citations: 'The Hills' Alums Spencer Pratt, Heidi Montag Are Expecting a Baby: 'I Was Like, Whoa!' (Us Weekly)