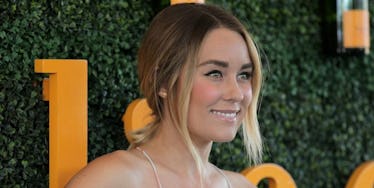 Lauren Conrad Reminds Us She's Pregnant With Adorable Baby Bump Selfie At Beach
REX/Shutterstock
Oh, did you forget? Lauren Conrad is pregnant!
On New Year's Day, the "Laguna Beach" star announced she and her husband William Tell are expecting their first child together. Conrad posted a mysterious ultrasound photo, captioned,
Happy New Year! I have a feeling 2017 is going to be the best year yet.
Here's the photo.
A week after making the announcement, the 31-year-old took to Instagram to prove it with a cute baby bump photo because blurry ultrasound photos just aren't enough!
Here's that photo.
That's right, "The Hills" fans, it's finally happening. LC is all grown up, married and having her first child this year! Where's Whitney Port when you need her?
Oh, wait here she is.
Just in case you were wondering, LC is still pregnant and she's back with even more proof on the 'gram so you can stop pinching yourself.
On Thursday, the TV personality, author and fashion designer took to Instagram to share a photo of herself relaxing on the beach with a drink in her hand.
CALM DOWN, PEOPLE... It wasn't an alcoholic beverage. It was a glass of blended lemonade she wished was a margarita, according to her caption. But that's not the best part about the photo.
The massive baby bump is the best part, obviously! The full caption reads,
Babymooning and pretending my blended lemonade is a margarita.
In case you were wondering what "babymooning" is, it's a term used to refer to the period of time both of the baby's parents go on vacation and relax before the mother gives birth.
Behold Lauren Conrad's adorable "babymooning" photo.
When she's not lounging on the beach being awesome and pregnant, she's home prepping for the baby.
And hanging out on the beach with her favorite people some more because why not?!
Speaking of celebrity pregnancies, LC's former co-star on "The Hills" Whitney Port is also expecting her first child this year. The 31-year-old also announced her pregnancy on Instagram in February.
So, we'll be getting not one, but two MTV babies this year.
This further proves my theory that love isn't in the air, it's in the freakin' hills!
Citations: Lauren Conrad Shows Off Bare Baby Bump While Babymooning (Entertainment Tonight)