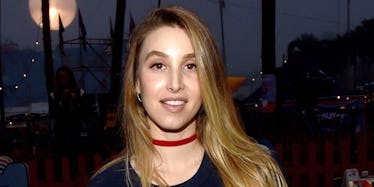 'The Hills' Star Whitney Port Announces Pregnancy With Pic Of New Baby Bump
REX/Shutterstock
Whitney Port from "The Hills" is all grown up and having a baby.
The 31-year-old former reality star revealed her pregnancy news on Instagram on Thursday, with a photo of herself in her underwear showing off her (minuscule) baby bump.
I mean, her stomach is still smaller than mine was last night after I ate two Crunchwrap Supremes from Taco Bell, but whatever.
She wrote in the caption,
Oh hey! Just standing by the window in my underwear, with a BABY in my belly!!! DM me if you know what I'm supposed to do with this thing for how ever many years I'm supposed to be in charge. Check out my blog for a little letter from me & Timmy and for more behind the scenes of this crazy journey!!!! We are sooooo excited!!!!
This will be the first child for Whitney and her husband, Tim Rosenman, who was a producer on her show "The City." The two have been married since 2015.
Whitney added some more pregnancy pictures in a post on her blog, which was filled with many exclamation points.
She wrote,
I peed on a stick and now I'm going to be a Mom! Timmy and I were a bit shocked, but so excited to begin this journey. I'll be posting some videos and pictures along the way, so you guys can be a part of everything. It's been such an interesting and trying but amazing journey already. I can't wait to share my experience AND learn so much from all of you! I can't wait to be a Mom, but the fact that there is another person inside there is seriously crazy!
While I'm very happy for Whitney and the miracle of life that is happening inside her body right now, I'm mostly just concerned about how old this makes me.
Seriously, how is Whitney in her 30s and like, settling down and starting a family and shit? Wasn't "The Hills" on MTV like, last year?
(No, it was not, it ended seven years ago.)
But it feels like just yesterday little Whitney and LC were BFF goals on our TV screens.
Congratulations, Whit!
Citations: WE'RE PREGNANT!!!!!!!! (WhitneyPort.com)