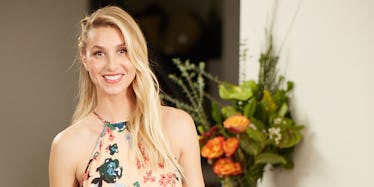 Whitney Port Talks Marriage, Friendship And Life After 'The Hills'
Palm Breeze
When the original cast members of "Laguna Beach" went their separate ways in 2005, fans were left with an empty void -- a void that was quickly filled with the drama, excitement and adventures of Lauren Conrad's move to Los Angeles in "The Hills."
It was there we were introduced to Whitney Port, the blonde California native who interned alongside LC at Teen Vogue. We watched the two take on the city, runways and, of course, Heidi Montag.
While the MTV series may have made Lauren Conrad "the girl who didn't go to Paris," it also jumpstarted Port's career. Whitney made her final appearance on the show in 2008, leaving the West Coast to accept a job at Diane von Furstenberg in New York City.
Whitney Port quickly became a role model for ambitious women who put their careers first, the women who will do anything to succeed and don't hesitate when they see moments full of potential.
So when I had the opportunity to talk to Whitney in person, I jumped at the chance.
In just 10 years, she's starred in her own show, "The City," launched her own website, WhitneyPort.com, and founded her own clothing line, Whitney Eve.
Along with fashion, beauty and health (she's a big fan of SoulCycle and Pilates), Whitney's also a big proponent of spending time with those you love -- especially your girlfriends.
For Whitney, "girl time" has always been "super important and necessary."
So she partnered with sparkling cocktail brand Palm Breeze to encourage women to make time for their female friends and essentially "bring back girl time."
According to Whitney, this is all about "creating that time to sit around with your girlfriends."
For most of us, there's barely any time in the day to go grocery shopping or to the gym, let alone just relax with friends. But that doesn't mean that time isn't important.
In fact, Palm Breeze recently conducted a survey that found 73 percent of women feel happier and 65 percent feel less stressed after spending time with their girlfriends. Plus, the research also suggested women who hang out with their female peers "are more likely to be satisfied with their sex lives than those who don't."
So in order to fit that into her own life, Whitney does a couple of things.
For starters, Whitney suggests "[keeping] one or two nights open," and creating a set ritual.
That way, you "don't have to make a plan all the time." If you and your friends can't miss an episode of "The Bachelor," plan to spend Monday nights together.
If you're a fan of cooking, follow in Whitney's footsteps and start a cooking club. She's able to find that quality girl time with the help of Ina Garten's and Chrissy Teigen's cookbooks.
In addition to her close-knit group of friends and her three sisters, Whitney's husband, Tim Rosenman, whom she affectionately calls Timmy, is also a huge part of her life. She says she balances working, hanging out with friends and making sure she still has time for him by putting rules in place.
And the most important rule is one we all need to abide by every now and then: Put down the phones.
After discussing married life, girl time, Twitter and Whitney's favorite social media outlet, Instagram, we eventually got around to talking about "The Hills."
As for what she's learned since her days on MTV, Whitney told Elite Daily,
You don't need the fame to cement who you are... Everyone is trying to make a name for themselves... [we're a] generation of entrepreneurs. You don't need to sell yourself in order to do so.
Whitney Port is truly proof women can have it all: the successful career, the husband, the friends and a life after reality TV.