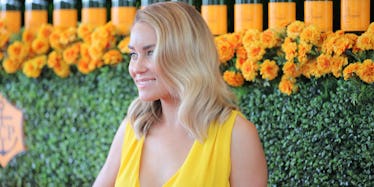 Lauren Conrad Debuted Her Baby Bump On Insta And The Photo Is Too Cute
REX/Shutterstock
"Laguna Beach" fans, rejoice! "The Hills" fans, also rejoice!  It's official.
Lauren Conrad is pregnant and the proof is all over her Instagram feed. On New Year's Day, Conrad first announced that she and husband William Tell are expecting their first child.
Cue up the excited body language with a little help from Whitney Port.
Last week, the 30-year-old star took to Instagram to show off her mysterious ultrasound picture confirming her pregnancy. The photo caption reads,
Happy New Year! I have a feeling 2017 is going to be the best year yet.
Not only does she have "a feeling," she's got the baby bump to prove it!
Here's the ultrasound photo LC shared first.
Now, for the first time, Lauren Conrad is further confirming her pregnancy with yet another Instagram photo. This time, it's of her actual baby bump so prepare to see LC like you've never seen her before...
Lauren Conrad's website then shared the first photo of her baby bump, which was called "the cutest baby bump ever." You be the judge.
Hmm, you know what? Whoever wrote that photo caption is absolutely correct.
That is the cutest baby bump ever. Sorry, other celebrities, but I don't even remember what your baby bumps looked like to even make a comparison.
So, is it a boy? Is it a girl? We'll just have to wait and see. All we know now is LC has always planned to have children.
When asked how many children she would like to have back in 2015, Conrad took to her blog, saying,
Maybe two. That way we aren't outnumbered.
Good call.
The fashion designer, author and TV personality also spoke on her "favorite thing" about being married,
My favorite thing about being married is knowing that I have a partner in life that I get to do so many wonderful things with. Dreaming of the things we will do 20 years from now is so fun.
It doesn't get any sweeter than that.
Congratulations to Lauren Conrad and William Tell!
Citations: Lauren Conrad's Baby Bump Makes Its Instagram Debut (ELLE)