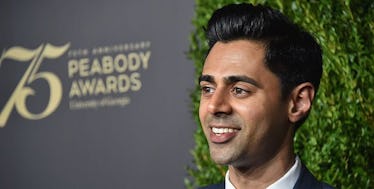 Who Is Hasan Minhaj? 10 Facts About The White House Correspondents' Dinner Host
Getty Images
It's that time of life, boys and girls. The time where a woke, smart and (dare I say) attractive as hell political comedian takes the stage and hosts the White House Correspondents' Dinner.
In the past, comedic stars like Cecily Strong and Seth Myers have roasted President Barack Obama and the press, leaving us with some of our favorite one-liners like,
I want all the media to put their hands up and swear something this election season. 'I solemnly swear...not to talk about Hillary's appearance...because that is not journalism.'
This year, Hasan Minhaj will be gracing the stage and our televisions, delivering what we all assume is going to be some hilarious, informed truth to Congress and the media.
So, who is he, you might ask? Let me tell you.
1. You know him from his senior correspondent position on "The Daily Show with Trevor Noah."
You know, the handsome AF correspondent with great hair? Hasan first joined The Daily Show in November of 2014, and has been enlightening our political minds and tickling our funny bones ever since.
2. He is Muslim and a first-generation American.
Hasan's parents immigrated from Aligarh, Uttar Pradesh, India to David, California, though his mother spent the first eight years of Hasan's life completing medical school in India.
Why mention this at all? Ohhhh, just a little something called the Muslim Ban implemented by you-know-who. No, not Voldemort, but close enough.
Wonder if Hasan will bring any of this up on Saturday...
The Daily Show with Trevor Noah Get More: The Daily Show Full Episodes,The Daily Show on Facebook,The Daily Show Video Archive
3. He has a special coming out soon on Netflix.
The special is titled "Homecoming King" and is based on his critically acclaimed one-man show.
In it, Hasan explores true experiences from his life as an Indian-American. It will follow his family's journey to the United States, what it's like to be in interracial romantic relationships, bullying and more.
4. Before comedy, he went to school for political science.
Hasan studied at the University of California, Davis, where he majored in political science before switching gears to comedy after seeing the Chris Rock special "Never Scared."
From there, he began regular trips to San Francisco to perform stand-up.
5. Before The Daily Show, he hosted his own show on YouTube called "The Truth with Hasan Minhaj."
"The Truth With Hasan Minhaj" ran from 2012 to 2013 and was produced by a sketch group called GoatFace Comedy.
In the videos, Hasan would take on -- you guessed it -- political and social issues and break them down in a digestible, funny way for audience viewers.
Favorite topics include Ashton Kutcher wearing brown face for his infamous Popchips commercial and Miss America's first Indian-American winner.
6. He also is the voice of a character on the video game Far Cry 4.
I don't know... that's a cool fact and skill set, right?
7. Hasan is also a big LGBTQ advocate.
In 2015, Hasan co-wrote an open letter urging scholar and Iranian-American author Reza Aslan to support same-sex marriage.
In it he wrote,
Here's the thing. When you are an underrepresented minority — whether Muslim, African American, female, etc. — democracy is an all or nothing business...You fight for everyone's rights (and the operative word here is 'fight'), or you get none for yourself. Democracy isn't a buffet. You can't pick and choose which civil liberties apply to which people. Either we are all equal, or the whole thing is just a sham.
8. He used to open for Kat Williams.
After winning Wild 94.9's "Best Comic Standing" competition, he began opening for famous comedians like Kat Williams, Pablo Francisco and Gabriel Iglesias.
9. This is his second time hosting a dinner--the first being the Radio and Television Correspondents' Dinner in 2016.
Hasan called Donald Trump a "racist Cheeto" during the dinner, where attendees included members of Congress and the media.
Hasan also had incredibly moving and viral commentary on the Orlando shooting, which happened just days before the dinner.
Notably, Hasan said,
We look to you guys as our leaders. You make almost $200,000 a year to write rules to make our society better. Not tweet, not tell us about your thoughts and prayers... ...When I got into comedy, when you guys got into the media, when you guys got into politics, we wanted to do the best work we could possibly do. And is this what you want your legacy to be? That you were a 'could've done something' Congress but you didn't because of outside lobbying; that you were complicit in the deaths of thousands of Americans? And look, I know being a member of Congress is hard. You got to placate your base, you got to look out for re-election, you got to answer to lobbyists. But please, persevere. Because our thoughts and prayers are with you.
10. He's not a big fan of Trump
Surprise, surprise.
In Minhaj's announcement about hosting the White House Correspondents' Dinner, he said in a statement,
It is a tremendous honor to be a part of such a historic event even though the president has chosen not to attend this year. SAD! Now more than ever, it is vital that we honor the First Amendment and the freedom of the press.
You can watch the White House Correspondents' Dinner this Saturday at 9:30 pm EST on C-Span.
Citations: Who Is Hasan Minhaj? 11 Things You Need to Know About the Host of the White House Correspondents' Dinner. (Cosmopolitan)