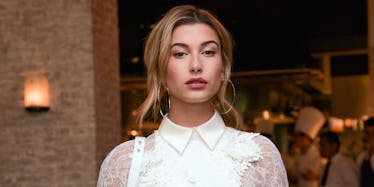 Hailey Baldwin Is In Hot Water Over Plagiarized Quote She Posted On Instagram
REX/Shutterstock
It turns out Hailey Baldwin isn't skilled at writing poetic soliloquies about the fallacy of human error.
I know. Whaaaaat? No way!
But it's true. Apparently that moving note she posted on her Instagram last month to support Selena Gomez through her public fight with Justin Bieber was not a Hailey Baldwin original.
According to Page Six, Long Island author Melissa Molomo sent a cease and desist letter to the 19-year-old model for plagiarizing her writing without credit.
Hailey has since deleted the Instagram, but here is a screenshot of the post obtained by Page Six.
At the time, most people assumed this was a note from Hailey directed at Justin Bieber, whom Selena Gomez had just accused of cheating in the comments on one of his posts.
(That was the post where he threatened to delete his Instagram if people were mean to Sofia Richie. This is actually quite complicated.)
But anyway, the point is, apparently that paragraph is actually from Melissa Molomo's book "Say What's Real."
In her cease and desist letter, the author threatened to sue Hailey for up to $150,000 in damages.
The letter, written by Molomo's attorney, reads,
In copying and using Ms. Molomo's work without permission, you have taken credit and caused confusion as to whom the original author of this work is.
Molomo is also demanding Hailey publicly apologize on social media for passing off the writing as her own.
Honestly, I can't think of a better thing to happen to a little-known writer than to have Hailey Baldwin steal your work.
Thanks for looking out for us creative folk, Hailey!
Citations: Hailey Baldwin Is Being Sued for Plagiarism After She Shared a Quote in an Instagram Post (New York magazine)