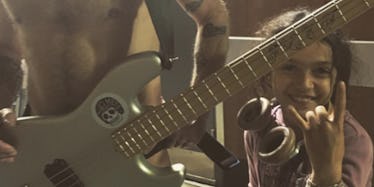 People Are Pissed At This 'Game Of Thrones' Star Over A Pic Of His Daughter
Instagram
Looks like Aquaman has found himself in some hot water over a startling photo on his Instagram.
Jason Momoa, best known for playing the late Dothraki warlord Khal Drogo on "Game of Thrones," is facing some backlash from fans after posting a photo of his daughter that some have deemed inappropriate.
In the photo, Momoa's 9-year-old daughter, Lola, is shown grinning and posing next to Flea of the Red Hot Chili Peppers.
Sounds innocent enough, right? Well... not exactly.
In the photo, it appears as though Flea is naked.
A bunch of viewers have commented that they don't think it's appropriate for a young girl to be that close to a grown, naked man.
A number of commenters wrote that the photo was "messed up" or "inappropriate." One commenter voiced his confusion and disapproval of the photo, saying,
I'd like to understand why, as a father, did you post such picture. Flea or not Flea, is still a naked adult next to your daughter. Is it normal for you? Is it a common practice in your family? Disappointed!
But for all the upset commenters, there were just as many people celebrating the photo and defending Momoa, saying it's a great shot of his daughter looking happy and pointing out that Flea is known for performing in the nude.
It's also possible that Flea is actually wearing underwear in the photo, which we can't totally see because of his carefully positioned guitar.
Although, I think the people who freaked out about a naked guy standing next to a 9-year-old probably won't be much happier about a guy in his underwear standing next to a 9-year-old.
Regardless of this controversy, it looks like Momoa and his kids had an amazing time at the Red Hot Chili Peppers concert on Wednesday night.
Momoa posted a bunch of photos of Lola and his 8-year-old son, Nakoa-Wolf, hanging out backstage with the Peppers.
It sure looks like the Instagram controversy isn't taking away any of the joy Jason Momoa and his kids got from their night with the Red Hot Chili Peppers!
Citations: People Are Freaking Out About Jason Momoa's Photo Of His Daughter With A Possibly Naked Rock Star (Refinery29)