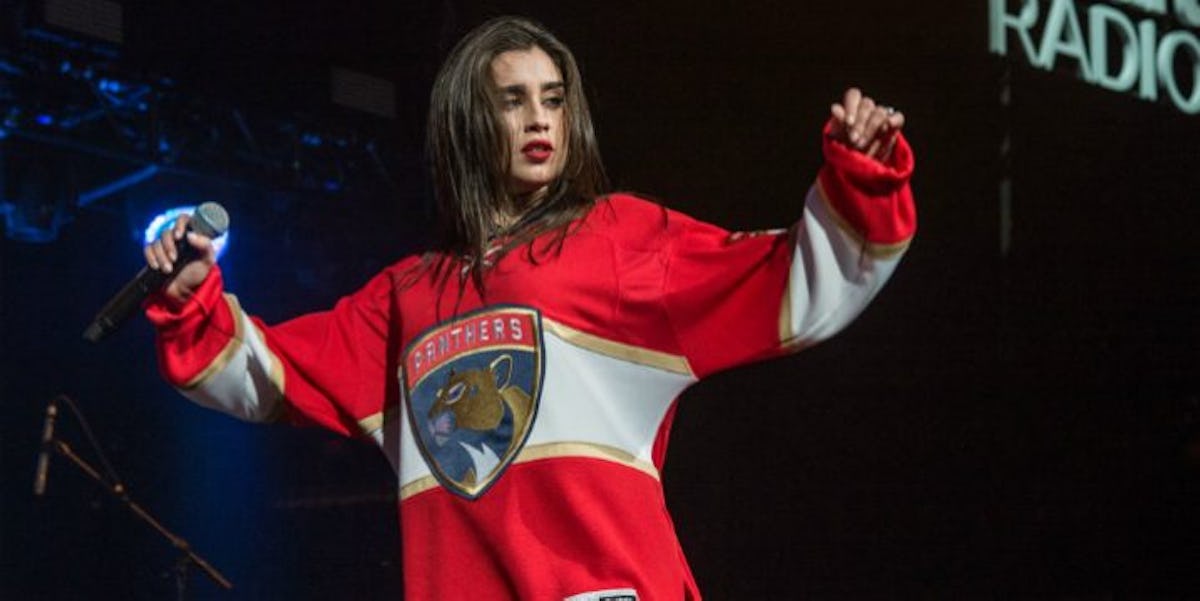 Fifth Harmony's Lauren Jauregui Writes Open Letter To Trump: 'Please Listen'
REX/Shutterstock
It's been proven mutual hatred is one of the secrets to building a strong foundation to a relationship or friendship.
So, if I give President Donald Trump credit for anything during his campaign, it's the fact our powerful mutual hatred has drawn us all closer as citizens of this world.
There is no one in the world who inspires people to protest, to dedicate their award speech to denounce him or to make their voices heard more than Trump.
Everyone from Chelsea Clinton to Kim Kardashian has called Trump out on his unconstitutional Muslim ban.
Now, Fifth Harmony's Lauren Jauregui is the latest to speak out against Trump.
This isn't the first time the Cuban-American singer has spoken out. In November, she came out as bisexual and wrote a note to Trump voters, part of which read,
To every single Trump supporter… Your words are worthless, because your actions have led to the single-handed destruction of all the progress we've made socially as a nation.
On January 21, she also took part of the Women's March on Washington. She told Nylon,
I'm marching for human rights in general, because the upcoming administration has clearly made a statement about who they support and what kind of regime they intend to instill. I'm marching for women, I'm marching for the LGBT community, I'm marching for immigrants. I happen to fall into all three categories, so I'm marching for myself at the end of the day and for my family and my friends. And for whoever else deserves it.
Jauregui wrote an open letter, obtained by People, asking fans to "take action."
She began,
Raise your hand if you are an immigrant, or the sons and daughters of immigrant parents, or the grandchildren of immigrants, or the great-grandchildren, or great-great-grandchildren? Wait…are everyone's hands up—including yours, Mr. Trump—except for the Indigenous people of the Americas?! Because they should be.
Lauren goes on to explain how Spanish conquistadors murdered and enslaved indigenous people in 1492 and how it happened again in 1620 by European Christian separatists.
She continued,
This country was built and continues to survive off the backs of immigrants and refugees. The term refugee in itself is such a significant word. These people are not terrorists: Many are escaping wars that we created in their lands. To tell another human being that the disastrous tortures of war are not important and to then go even a step further and insult their plight for freedom by labeling them 'terrorists' is just disrespectful to humanity.
She finished,
If you are going to these protests, if you need health insurance for yourself or a sick loved one, if you are a woman, if you are a person of color, if you are disabled, if you practice any sort of religion, if you care about the air you breathe and the water you drink, if you showed up to that women's march in whatever city or state or country or town you came from, you need to fight back. We need to come together and let this administration know that we are not going to stand for another Nazi Germany or Stalin Russia or Mao Zedong China. The list is endless in the course of history, and it all happens the exact same way. The phrase history repeats itself is not a cliché for free. Please heed the danger and the warning and blessing that we still live in a country where the founding principles that these Republicans swear to uphold are still protected by some... Please, please listen.
You can read her letter in its entirety here.
Citations: Fifth Harmony's Lauren Jauregui Calls Trump's Immigrant Ban 'Disrespectful to Humanity' in Open Letter (People)