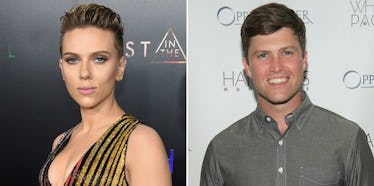 4 Things To Know About Scarlett Johansson And Colin Jost's Relationship
Jamie McCarthy/Mark Sagliocco/Getty Images
Scarlett Johansson and Colin Jost are officially a thing, which explains why we never matched on Tinder. (THIS IS THE ONLY REASON WE DIDN'T MATCH, SHUT UP.)
A source confirmed to E! News that Johansson and Jost (#Josthansson™ #Scolin™) are heading toward being exclusive and are really digging each other.
The source said,
Colin and Scarlett are dating and having fun. They are still getting to know each other, but she is really into him and it's getting more on the exclusive level.
So now that they're nearly official, let's break down everything we need to know about Hollywood's newest couple:
1. Johansson recently got divorced from husband Romain Dauriac and thinks monogamy is "not natural."
Johansson was married to Romain Dauriac for about three years before finalizing their divorce in January of 2017. The pair have a 3-year-old daughter, Rose Dorothy.
Just a month after the divorce, Johansson revealed she believes monogamy isn't a realistic thing for humans to commit to. She said,
I think the idea of marriage is very romantic; it's a beautiful idea, and the practice of it can be a very beautiful thing. I don't think it's natural to be a monogamous person.
She also said this way back in 2006 when she was promoting her film Match Point. However, she did clarify her previous comment in 2008 (while she was with now ex-husband Ryan Reynolds), saying,
I don't think it's a natural instinct for human beings, but it doesn't mean I don't believe in monogamy or true love. I believe in finding a soul mate. I've always been in monogamous relationships. I would never want to be in an open one. It'd be too awful. Monogamy can be hard work for some people. I don't think it applies to everybody, and I don't think a lot of people can do it.
Honestly, fair.
2. Jost was in a serious relationship with Parks and Recreation star Rashida Jones for a couple years until their breakup in 2016.
Jost and Jones reportedly met back at Seth Meyer's wedding in 2013 and started dating a little bit after.
They broke in 2016 after a pretty steady and low-key relationship.
3. Both Johansson and Jost are really particular about who they let into their romantic lives.
According to E!, Johansson and Jost were spotted getting dinner together at The Palm in East Hampton over the Fourth of July weekend. Jost's birthday was the day before, so they're already spending birthdays together! Well, just one birthday, as far as we know.
Earlier this year at the annual Hilarity for Charity event hosted by Seth and Lauren Rogen, Jost was asked about his fling with the Avengers star. All he said was, "I'm very happy in my personal life," so he clearly likes to keep things private, just like Scar Jo.
A source told E!, "She is pretty busy with work now, but has cut out time to see Colin numerous times." They added,
Scarlett says he is different than many of the men she has been with. She is pretty picky who she goes out with even if it's just dating. They share many similarities together.
4. They were just "hooking up" at first.
Scar Jo and Co Jo™ apparently got their start back when Johansson hosted Saturday Night Live earlier in the season (you know, the episode where she played a complicit Ivanka in a truly iconic short).
She appeared as Complicit Ivanka again on the season finale (hosted by The Rock), and they were seen making out at a bar at the after party. Sources said their fling was just a "fun" and "casual" romance, but clearly it's not anymore!
According to sources, one of the big reasons Johansson is into Jost is because he's just an all-around good guy.
Wishing you all the best, Josthansson™.
(DM me if you want to use any of my aforementioned couple names, as I'm currently working on getting them trademarked.)