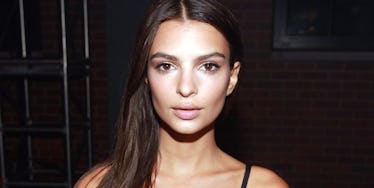 Emily Ratajkowski Posts Steamy Makeout Sesh With Her Boyfriend
REX/Shutterstock
I don't expect the rest of you to be able to relate to this, but I honestly never knew Emily Ratajkowski had a boyfriend.
I suppose that's because I personally chose not to know. And if I ever did see the 25-year-old model with Jeff Magid, I purposely tried to imagine he didn't exist (sorry, bro). Can you even blame me, though?
The one thing we can all relate to is Emily Ratajkowski being "the one that got away" from all of us. If you've seen her most recent Instagram selfies, like the one in which she has no clothes on, you'll probably agree.
Unfortunately for us EmRata obsessors, she's super taken. WHOMP!
If you ever needed a reminder or you just wanted plain proof Emily Ratajkowski is indeed off the market, just check out her latest Instagram post with her boyfriend Jeff Magid, a musician. It's PDA overload!
After blessing the world with countless sexy selfies, Emily Ratajkowski took to Instagram to remind us she has a boyfriend. Jeff Magid is a lucky man!
Soul-crushing, isn't it? I know, but it's also a beautiful thing. After all, it's quite clear these two are madly in love.
Instead of us all being jealous pricks, we should just be happy for them. We should also learn to be appreciative of the many sultry pics we've been gifted. Remember that naked bathtub selfie? I do.
How could we forget her topless vacation in Cancun?!
There was also the time Emily walked a dog in 40-degree weather in New York City while wearing nothing but a bikini. She called that "work." I called it a thirst-quencher.
And now, she's evolved into her final form... a taken woman with eyes for only one man. Jon Hamm, a little help here?!
You know, I'm starting to think I'm taking this a lot harder than most people!
Now, if you will excuse me, I'm going to go sob in the corner.
Citations: Emily Ratajkowski Packs on the PDA With Boyfriend Jeff Magid in New Instagram Pic (Entertainment Tonight)