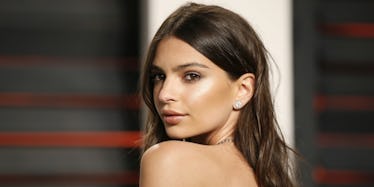 Emily Ratajkowski Shows Off Her Perfect Body In Totally Naked Hot Tub Pic
REUTERS
Ever since the breathtaking Emily Ratajkowski appeared in Robin Thicke's racy music video for "Blurred Lines," the 25-year-old model has had no problem turning heads with ease.
Maybe there really is such thing as a "perfect body..." Keyword: maybe!
Her most recent spectacle? Well, it isn't quite an unrated music video, but it's just as good. It might even be better because pictures are worth a thousand words, remember?
Emily Ratajkowski took to Instagram to unload a sexy hot tub pic on her followers while vacationing in Santorini, Greece. The end result?
Just try not to stare too hard.
Excuse me while I locate the nearest bag of ice. Not only is it uncomfortably warm right now, but this photo is just too hot for words.
I mean, is that a hot tub merely 10 steps from her hotel room bed?! Damn, that's some grade-A interior design right there.
According to Daily Mail, Emily's steamy photo reeled in over 50,000 likes in under 30 minutes -- and it's NOT hard to see why.
Just before posting the sexy hot tub photo, Emily Ratajkowski gave her 7.5 million Instagram followers a different view.
At this point, I'm not worried about waiting on Emily to appear in the next R&B music video...
Her Instagram posts are more than enough to give the people what they want.
Oh, and Santorini looks pretty nice, too.
Emily Ratajkowski, who's been a signed model since the young age of 14, admits that there's really only one thing she uses Instagram for.
While we're busy stalking her 'Gram, the 25-year-old British-born model is using the platform for one thing -- bikini-hunting. Seriously.
In an interview with People last month, she said,
I'm completely bathing suit obsessed and I love lurking on Instagram looking for the best bikinis.
Emily, your bikini-obsessed ways on social media are definitely paying off.
Keep up the good work!
Citations: Booty-ful! Racy Emily Ratajkowski shows off her pert rear as she strips NAKED for racy Santorini hot tub snap (Daily Mail)