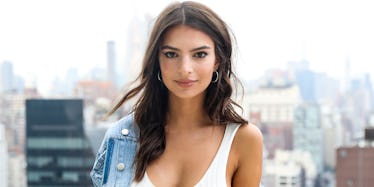 Emily Ratajkowski Went Completely Topless On Vacay And There Are Sexy Photos
REX/Shutterstock
If there's one thing we all know about model Emily Ratajkowski, it's that she does NOT shy away from showing off the goods.
Time and time again, the 25-year-old bombshell has blessed the world with steamy Snapchats and Instagram photos that make you want to curl up into a ball and wonder why you don't know her personally.
Remember that time she posted a pic while lounging naked in a hot tub? I haven't forgotten. Then, there was the time she posted photos on Snapchat of her sipping wine in the nude.
As if those two instances weren't enough, Emily recently took to Instagram to post a selfie of her COMPLETELY NAKED. The thirst is real, and I don't care who knows it.
Emily Ratajkowski? Total fucking smoke show.
That's precisely why the world practically imploded after new photos surfaced of the London-born model vacationing topless in Cancun, Mexico on Tuesday, November 15.
Let's just say you no longer have to daydream about what EmRata might look like sans all of the fancy fashion and teeny bikinis.
Behold Emily Ratajkowski's latest contribution to the betterment of our world: topless photos of her Cancun vacation.
PICTURE EXCLUSIVE: Emily Ratajkowski goes topless in Mexico https://t.co/blB2n7FL9r pic.twitter.com/6Tt5DVdGFa — Daily Mail Celebrity (@DailyMailCeleb) November 16, 2016
The 25-year-old model had been frolicking on the beach as she soaked up the sun in nothing but a little black bikini.
At one point, she took her top off and took a dip in the ocean (and thankfully there's a video).
Excuse me while I dump a bucket of ice-cold water on my head for a non-charity-related cause. It's getting hot in here!
While you might be shocked to see Emily Ratajkowski topless on the beach, the model's unbreakable confidence in herself isn't anything new.
Sure, she posts revealing images of herself when she isn't being spied on by paparazzi while on vacation. But she doesn't just snap these steamy pics for no reason.
In a past interview with Harper's Bazaar, Ratajkowski spoke about her revealing photos on social media, saying,
Some posts are more intentioned than others. That selfie with Kim was very intentioned, very direct. I had the tweets lined up for when it launched because I wanted those things to be what came with the image when the media started covering it. But then other times it's just a tool, you know? I'm a young woman who lives in a world of social media; I'll post boring things too! [Laughs.]
I don't think this woman can make anything "boring."
Citations: Emily Ratajkowski goes topless as she whips off her cheeky swimsuit on Mexican beach break (DailyMail)