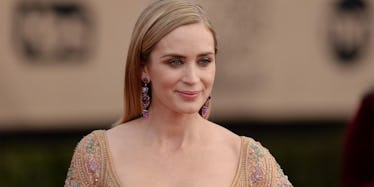 More Pics Of Emily Blunt As Mary Poppins Leaked And They Will Give You Life
REX/Shutterstock
Mary Poppins has opened her umbrella and flown back into our lives, and even though it's been over 50 years since her big-screen debut, she still looks amazing!
As we all know by now, Emily Blunt is taking over the role of the magical nanny Mary Poppins, who Julie Andrews made famous, for the upcoming reimagination of the franchise called "Mary Poppins Returns."
I say reimagination because the people behind the film have made it clear it will not be a remake or reboot of the 1964 classic.
Anyway, we got our first peek at Emily Blunt in her Mary Poppins costume last Friday, but a few paparazzi photos leaked over the weekend that give fans an even better look at the updated Poppins.
The first photo already showed Blunt decked out in a blue overcoat, with a red floral hat and her staple, large handbag. The new photos give us a look at Poppins in a red overcoat with an adorable little bowtie, and we get our first look at her iconic umbrella!
There's also a peek at Lin-Manuel Miranda in character as Jack, a musical lamplighter who will likely fill the male musical lead role that Dick Van Dyke originated as Bert.
These new pics are certainly a spoonful of sugar! And not only does the movie already look great, but the cast sounds absolutely incredible!
Dick Van Dyke is returning, but instead of playing Bert again he's going to be George Banks' boss at the bank, Mr. Dawes Jr.
Then you've also got British national treasures Colin Firth and Angela Lansbury in there, and the pièce de résistance: MERYL FREAKING STREEP!
Yup — Streep is signed on to play Mary Poppins' cousin Topsy. You heard that right: Meryl Streep will be playing a character named Topsy Poppins.
The new movie is going to be set about 20 years after the original, as Poppins revisits the Banks children from the first film now that they are grown up.
Sounds amazing, right!? Unfortunately, we're going to have to wait almost two years to finally see it — it's set to be released on Christmas in 2018.